New Port Richey FL: Where to Live, Play & Eat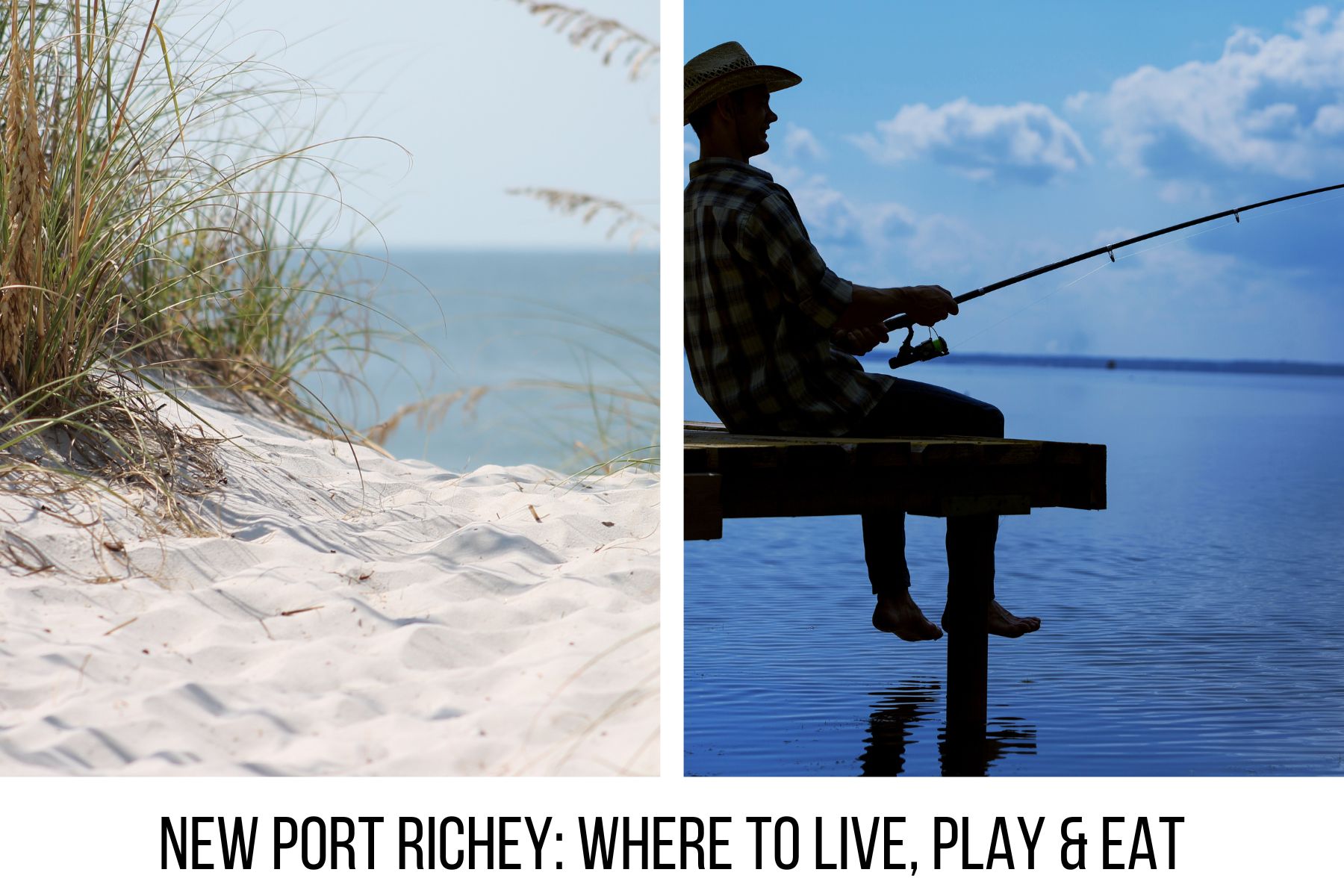 Location of New Port Richey, FL
Located in western Pasco County, New Port Richey is a well-established community close to Gulf coast beaches.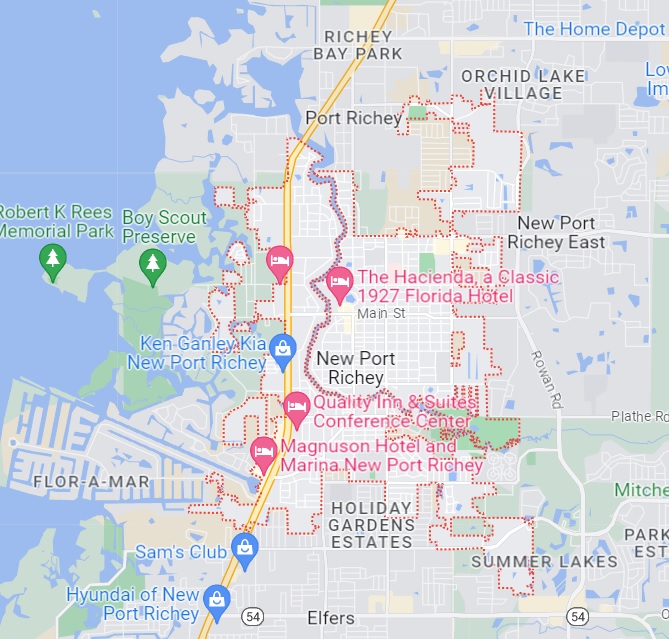 Real estate options in New Port Richey
New Port Richey is a small, beachside community. For housing options you will find mostly single-family houses along with a few condos and villas.
Homes for sale in New Port Richey
Parks in New Port Richey
This small town community is known for its parks and natural spaces. A few of our favorite parks in New Port Richey are:
Oakridge Park (batting cages, ball fields, playground, picnic area)
WH Jack Mitchell Jr Park (playground, basketball, sports fields, fishing area)
Robert K Rees Memorial Park (fishing, kayak/canoe launch, beach, playground)
Moon Lake Park (swimming, canoe access, boat ramp, playground, basketball courts)
Starkey Wilderness Park (volleyball, bike trail, playgrounds, camping)
Eagle Point Park (kayak launch, fishing, playgrounds)
Sims Park (lake, kayak launch, splash pad, playground)

Biking & walking trails in New Port Richey
Several of the above parks have nice walking trails. Other areas with nice trails include Boy Scout Preserve, James Grey Preserve and the Robert Crown Wilderness Area.
Places to eat in New Port Richey
New Port Richey has a good variety of local options as well as some chain restaurants. They include options including Greek, seafood, Chinese, Thai, Italian and American.
Some of our favorites in New Port Richey, FL include:
Central Park Family Restaurant
Brix 33
Zen Forrest
Thai Bistro
Beef O'Bradys
Hershel's Scratch Kitchen
Grandma Sally's
Cracker Barrel
Whisky Joe's
Bob Evans
Places to have fun in New Port Richey
There is lots of fun things to do in the New Port Richey community and most of involves nature. Visiting the local parks and preserves is a popular pastime of residents as well as spending time at the beautiful Gulf Coast beaches.
Places to shop in New Port Richey
New Port Richey is a small town with local shopping options including antique stores, boutiques, local bookstores and more. But there are big box stores too in neighboring communities including Walmart, Target, Lowe's and Best Buy.
There small grocery stores in New Port Richey as well as Publix, Winn Dixie and Sam's Club.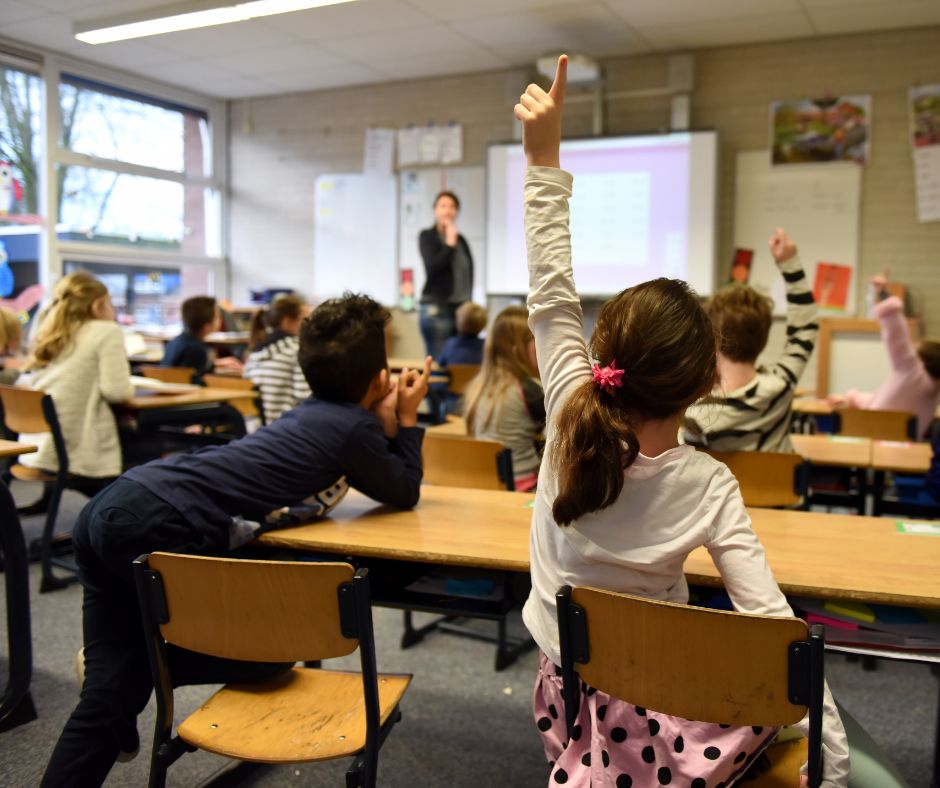 Schools in New Port Richey
The Pasco County School district runs the public schools in New Port Richey, FL. For more information on schools, check out our guide here
Elementary
Odessa Elementary
Schrader Elementary
Richey Elementary
Calusa Elementary
Cotee River Elementary
Cypress Elementary
Deer Park Elementary
Marlowe Elementary
Longleaf Elementary
Locke Elementary
Moon Lake Elementary
Trinity Elementary
Trinity Oaks Elementary
Middle
Bayonet Point Middle
Gulf Middle
River Ridge Middle
Seven Springs Middle
High
Gulf High
Mitchell High
River Ridge
Wendell Krinn Technical
Charter
Athenian Academy
Learning Lodge
Pepin Academy
Plato Academy
Private
Elfers Christian
First Christian Academy
Rainbow Tree Christian School
Genesis Prep
Hospitals in New Port Richey
There are two hospitals – Medical Center of Trinity and Morton Plant North Bay- based in the community as well urgent care centers and doctor's offices.
Hotels in New Port Richey
Checking out the area and need a place to stay? Or having company? Here are some New Port Richey-area hotels:
Quality Inn
Fairfield Inn
The Hacienda
Magnuson Hotel & Marina
Ready to move to New Port Richey?
Considering New Port Richey for your next home? If so, we want to chat. Our real estate team, with more than 30 years working and living in Tampa Bay, is here to help you find the perfect home. Call or text us today: 813-541-5320