Carrollwood FL: Where to Live, Play & Eat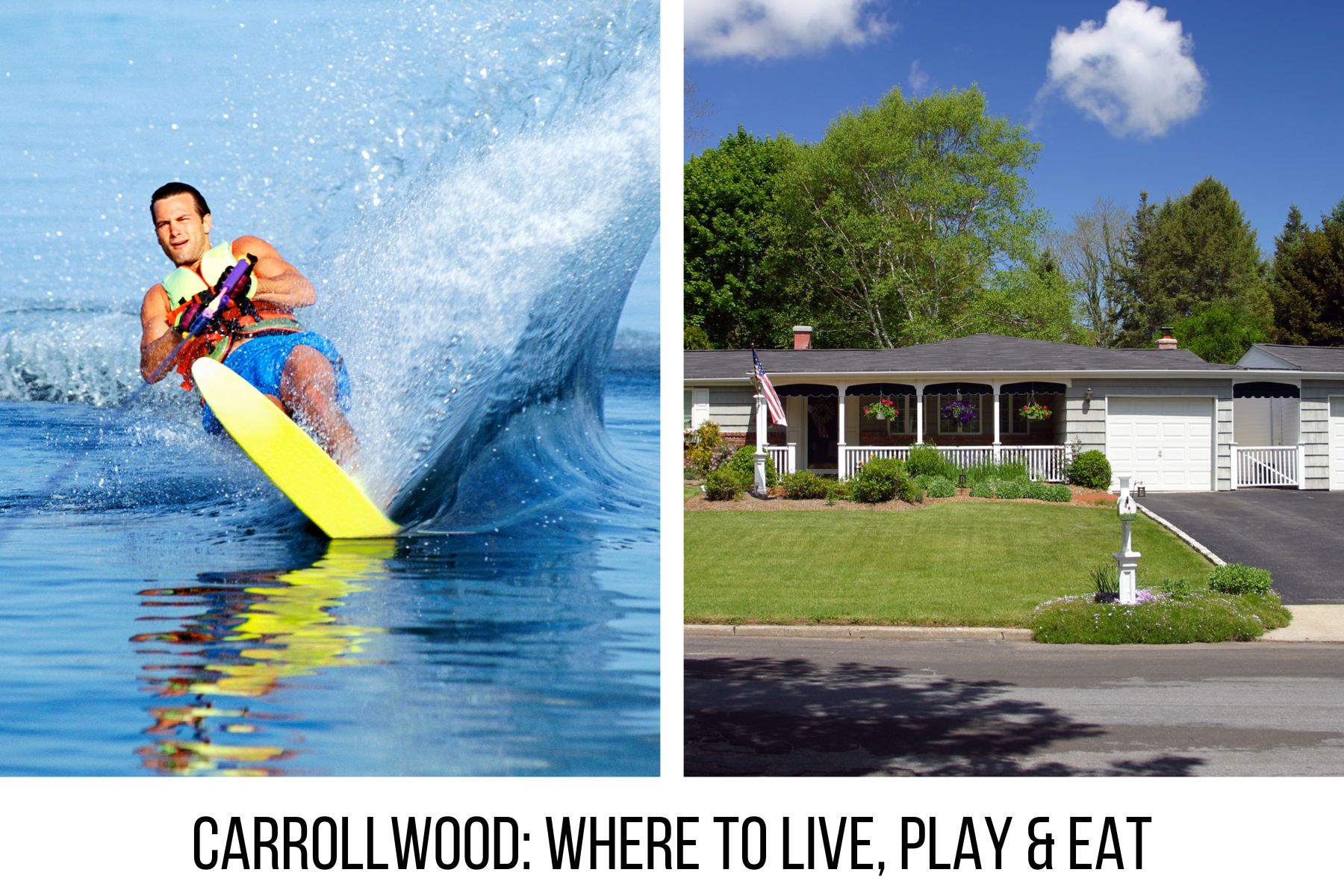 Location of Carrollwood
Located just 10 miles north of downtown Tampa in central Hillsborough County. Carrollwood is a well-established community with lots of trees, parks, lakes and good schools. And easy access to great shopping and restaurants.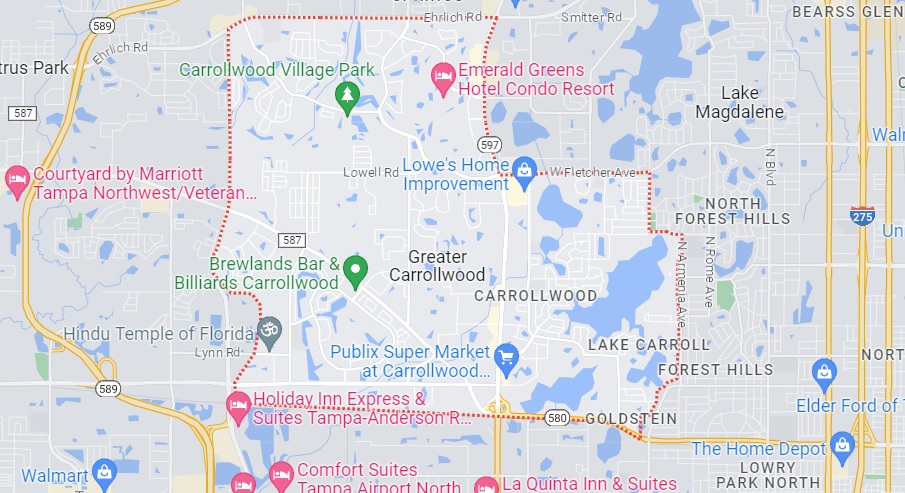 Real estate options in Carrollwood
Carrollwood is a well-established suburb of Tampa with ranch-style homes, lakefront properties, golf course communities, new construction, condos and villas. Carrollwood really has it all and it's in a great location!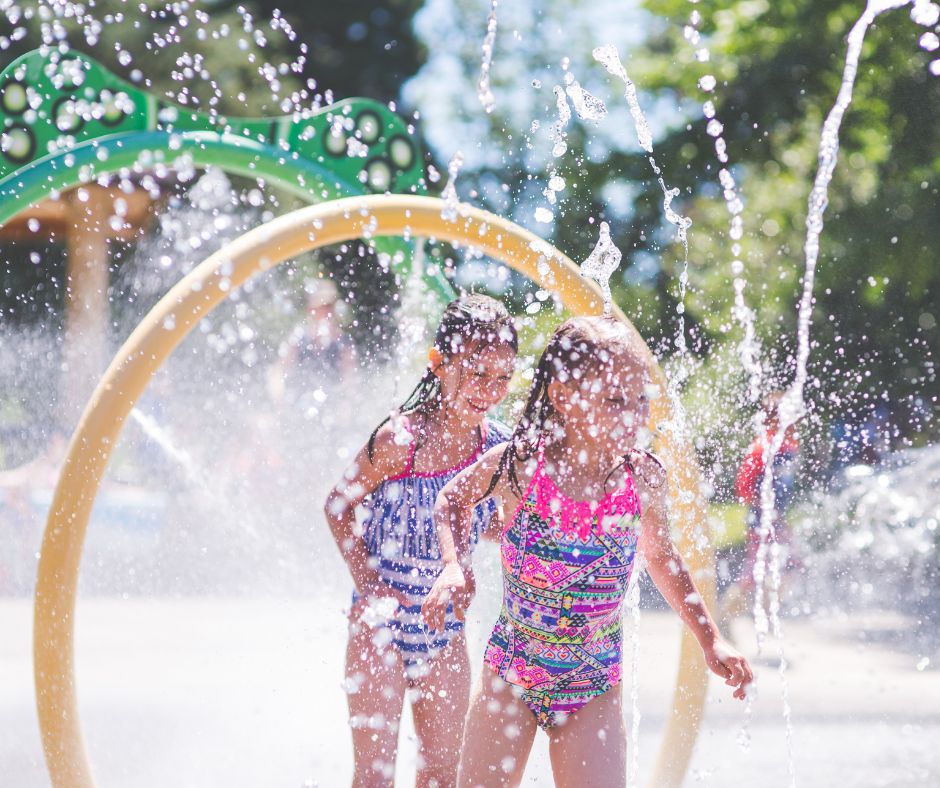 Parks in Carrollwood
Carrollwood has several park options. Many include playgrounds, walking trails, shaded benches and picnic tables.
A few of the parks in Carrollwood, FL:
Carrollwood Park (playground, baseball field, walking paths, shaded picnic tables)
Carrollwood Village Park (dog park, walking trails, splash bad, playground, skate park and fishing pier
Carrollwood Meadows Park (playground, tennis courts, basketball, open field)
Vista Gardens Park (community garden)
Beacon Meadow Park (playground, basketball, open field)
Biking & walking trails in Carrollwood
There are several trails around Carrollwood FL that can also be used for walking and jogging. These are found in the parks above. There is a 15-mile multi-use Upper Tampa Bay Trail that can be used for walking, jogging or biking just outside of the Carrollwood boundary. The Upper Tampa Bay Trail runs from just north of Tampa Bay up through Pasco County (with a gap that hasn't been completed yet).
Places to eat in Carrollwood
There are many choices to eat in Carrollwood including local and chain restaurants with a wide variety of options including BBQ, seafood, Japanese, American and burgers.
Some of our favorites in Carrollwood, FL include:
Noble Crust
Michael's Grill
The Sacred Pepper
The Melting Pot
Panera
Bonefish Grill
Kobe Japanese Steakhouse
4 Rivers Smokehouse
Burger 21
GrillSmith
Places to have fun in Carrollwood
There is lots of outdoorsy stuff to do in Carrollwood but there is also several local business that offer fun including:
Gymboree
Painting with a Twist
Side Splitters Comedy Club
Bounce House
Lowry Parcade

Places to shop in Carrollwood
Carrollwood has plenty of shopping opportunities from local stores that sell olive oil to boutiques and toy stores. And of course there are big box stores too including Lowe's, Walmart, Target, Five Below and Plato's Closet.
There are a variety of grocery store options in Carrollwood as well including Publix, Target, Walmart and Aldi, Sprouts and Whole Foods.
Schools in Carrollwood
The Hillsborough County School district runs the public schools in Brandon, FL. For more information on schools, check out our guide here
Elementary
Carrollwood Elementary
Lake Magdalene Elementary
Middle
Ben Hill Middle
Adams Middle
High
Gaither High
Alonso High
Chamberlain High
Charter
Private
Corbett Prep
Carrollwood Day School
Lake Magdalene Christian School
Primrose School
Hospital in Carrollwood
There is one hospital – Advent Health Carrollwood- based in the community as well urgent care centers and doctor's offices. Carrollwood is also close to St. Joseph's Main and Children's in Tampa.
Hotels in Carrollwood, FL
Checking out the area and need a place to stay? Or having company? Here are some Carrollwood-area hotels. These are outside the official boundaries of Carrollwood but still convenient:
Holiday Inn Express
Comfort Suites
Country Inn
Courtyard Marriott
La Quinta
Ready to move to Carrollwood?
Carrollwood is a popular community for young families. It's an excellent place to put down roots and enjoy all that Tampa Bay has to offer. Our real estate team, with more than 30 years working and living in Tampa Bay, is here to help you find the perfect home. Call or text us today: 813-541-5320