Homes on Ski Lakes
Lake Padgett, Lake Saxon, and East Lake
These three are the centerpiece of the Lake Padgett Estates community. Although once more than 20 subdivisions, the community is now consolidated into three main developments. Lake access, as well as equestrian stables and bridle paths, connect with five lakeshore parks and three boat ramps for residents.
Lake Padgett (180 acres), Lake Saxon (84 acres) and East Lake (108 acres) connect with several other smaller lakes through a series of drainage canals. The three main lakes connect with Bell, King and Joyce Lakes (information below) through small canals. Most canals are little more than drainage ditch, partially tiled and underground. Saxon Lake, however, has several large canals which are suitable for navigation and contain highly sought-after waterfront homes with private docks.
The Lake Padgett area is located north of SR54 between Interstate 75 and the Suncoast Parkway. It is easily accessible to Wiregrass Mall and Cypress Creek Outlet Mall as well as a wide variety of restaurants, medical offices and schools.
Lake Thomas
Lake Thomas, at 169 acres, is the second largest ski lake in Land O Lakes. It is one of the clearest lakes in Land O Lakes and is great for skiing, tubing, wakeboarding, jet skiing as well as fishing and kayaking.
There are some private homes as well as neighborhoods that border Lake Thomas. Neighborhoods include popular deed-restricted The Preserve at Lake Thomas and Lake Thomas Pointe, a newer community with homes on the southern shore of Lake Thomas.
Some homes in both communities have their own private dock. All homes around Lake Thomas are a short drive from SR 54, with access to Suncoast Expressway and interstates 75 and 275.
Other watercraft accessible lakes in the Land O Lakes area include:
King Lake (126 acres)
Bell Lake (82 acres)
West Lake Ellis (58 acres)
Big Lake Vienna (28 acres)
Lake Joyce (19 acres)
Other Pasco County lakes which may be motorboat accessible:
Lake Parker (330 acres, Odessa)
Lake Thonotosassa (946 acres, Thonotosassa)
Lake Keystone (434 acres, Odessa)
Lake Magdalene (252 acres, Tampa)
Lake Carroll (210 acres, Tampa)
Other Hillsborough lakes which may be motorboat accessible:
Lake Grady (163 acres, Riverview)
Lake Hiawatha (140 acres, Odessa)
Lake Valrico (134 acres, Valrico)
Lake Stemper (115 acres, Lutz)
Lake Calm (113 acres, Odessa)
Lake Wimauma (107 acres, Wimauma)
Lake Pretty (84 acres, Citrus Park)
Lake Mound (83 acres, Odessa)
Lake Osceola (59 acres, Odessa)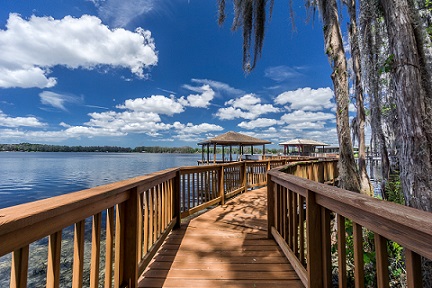 Lake Seminole (Seminole)
Lake Maggiore (St. Petersburg)
• We are always working to add information to this list. If you need information about a ski lake property call Tim & Lisa Carroll, 813-541-5320
Contact Us for a List of Homes on Ski Lake in Our Area