Your guide to natural springs near Tampa
Posted by Lisa Carroll on Monday, September 18, 2023 at 11:29 AM
By Lisa Carroll / September 18, 2023
Comment
Although we're blessed with some of the world's best beaches in Tampa Bay, sometimes you don't want to battle the sand, waves and people. Lucky for us the Tampa Bay area is also home to natural springs where you can tube, kayak, paddleboard and explore. Each of the natural springs we feature offers different activities so get out and enjoy.
Here are eight natural springs within 3 hours of downtown Tampa:
Lithia Springs
Location: 20 miles east of Tampa (3932 Lithia Springs Rd., Lithia)
Offers: Swimming, hiking, camping
Lithia Springs is the closest natural Florida spring to get to from Tampa and the park is run by Hillsborough County. The natural spring – 72 degrees year-round - flows cool, clean water into the Alafia River. The park is a great place to swim and camp. We have also enjoyed the hiking trails with lots of birds as well as fishing and the playground. There is a $2 per vehicle fee and then $2 per person fee to swim. The swimming area closes one hour before the park closes.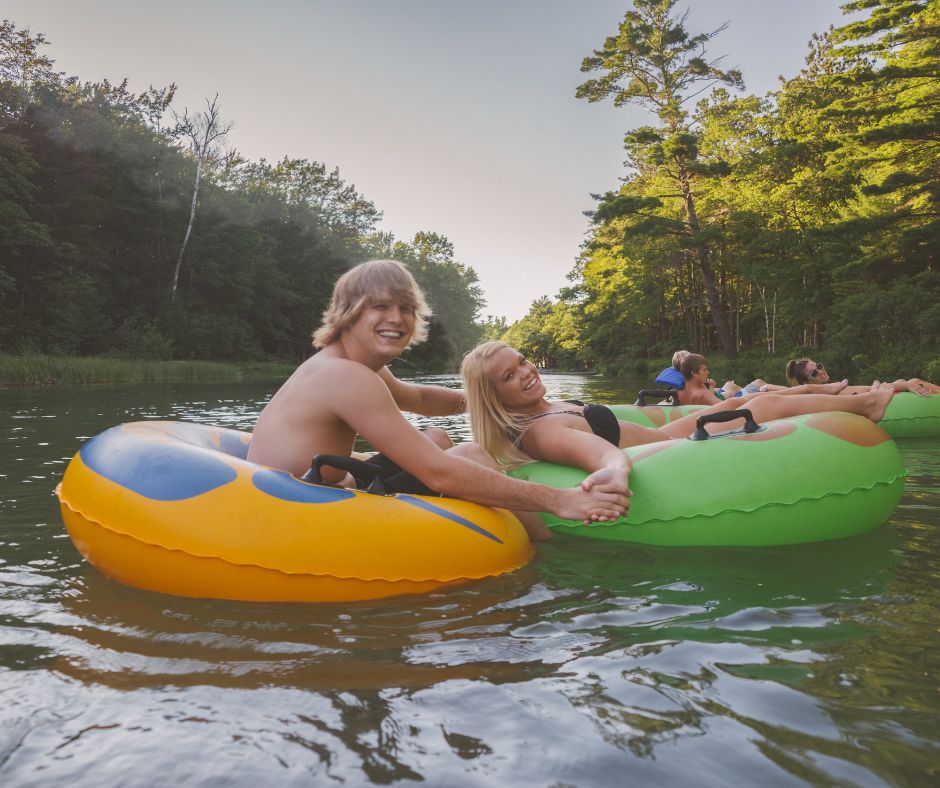 Ichetucknee Springs
Location: 160 miles north of Tampa (12087 S.W. U.S. Highway 27, Fort White)
Offers: Tubing, kayaking, paddleboarding
Spring-fed rivers, lush canopies and cool swimming holes, this is one of my favorite places to go tubing in Florida. We love it because we can rent a tube from one of the local companies and get dropped off and picked up right from the river. There is also a rental facility inside the park. The main draw is the park's eight crystal-clear springs that join to create the 6-mile Ichetucknee River. There is a general store inside the park as well as playground, picnic areas and an education center. Tickets can be purchased at floridastateparks.org. There is a $5 per vehicle charge. The park does fill up on weekends and a pre-purchased ticket is not a reservation.

Crystal River
Location: 80 miles north of Tampa in Crystal River
Offers: Swimming, kayaking, paddleboarding
Known for its sparkling blue, natural spring-fed rivers and chains of lakes, it's also the manatee capital of the world and one of only a handful of places in Florida where you are allowed to swim with the gentle giants. The crystal-clear water is 72 degrees year-round so it is a great spot to escape the Florida summer hear. Even at its deepest point— about 18 feet— you can see straight to the bottom which is great for kayaking and swimming with the manatees. There are several local businesses that rent canoes and paddleboards in Crystal River. Some even offer guided tours. King's Bay and Three Sisters Springs are two of the most popular water areas. Three Sisters Springs is closed until winter 2023 but you can still kayak to the springs to the left and right of the park entrance. King's Bay is just beyond this area and we have seen manatees, dolphin, birds, turtles and even otters in this area.
Rainbow Springs
Location: 115 miles north of Tampa (19158 S.W. 81st Place Road, Dunnellon)
Offers: Tubing, swimming, snorkeling, kayaking, paddleboarding
This is another of our favorite places to go tubing: along the Rainbow River. Tubing is available in the park (rental tubes available for $22). The water is a refreshing 72 degrees year-round and when you rent a tube in the park they will drop you off, you float down the river and get out where you parked your car. A leisurely trip down the river takes about 2 hours. You can also swim, snorkel, kayak and paddleboard in different parts of the river. Admission is $2 per person.
Ginnie Springs
Location: 149 miles north of Tampa (7300 Ginnie Springs Rd., High Springs)
Offers: Tubing, swimming, snorkeling, kayaking, paddleboarding, scuba diving, camping
This is a privately owned nature area in northern Florida. It is very popular for swimmers, snorkelers, tubers, paddleboarders and scuba divers. Flowing out to the Santa Fe River, the clear and inviting spring remains a constant 72 degrees year-round. You can rent tubes, snorkel sets, canoes, kayaks and paddleboards for a full day of fun. The park also has limited campsites. Admission is $20 adults, $5 kids. Scuba diving fees vary.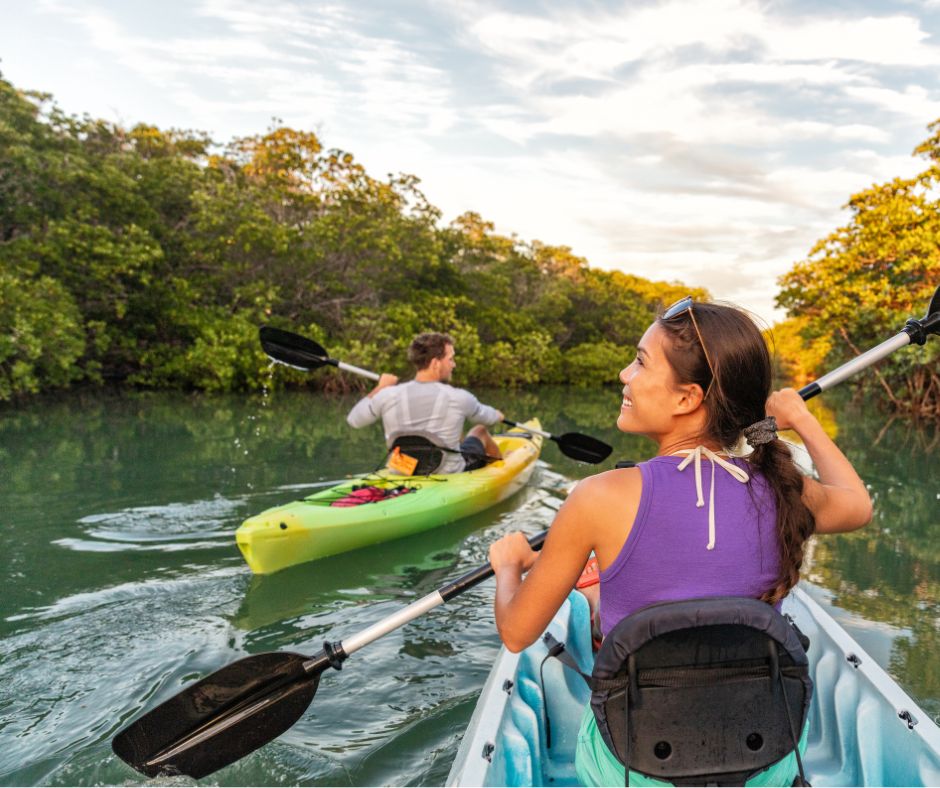 Weeki Wachee
Location: 57 miles north of Tampa (6131 Commercial Way, Spring Hill)
Offers: Kayaking, paddleboarding, boat ride, water park
Home of the world-famous mermaids, Weeki Wachee is a great day trip from Tampa Bay. The Weeki Wachee Springs State Park is home to the mermaid shows (daily at 11a, 1:30p and 3p) as Buccaneer Bay, Florida's only spring-fed waterpark. You can also rent kayaks and paddleboards inside the park as well as take a river boat cruise (operating between 9:30a-4p). Admission is $13 adults, $8 kids.
Silver Springs State Park
Location: 104 miles north of Tampa (5656 E Silver Springs Blvd, Silver Springs)
Offers: Kayaking, paddleboarding, boat ride
So far we have discussed options to swim, tube, kayak and paddleboard in Florida's natural springs. Here is a unique experience you won't find in the other springs: a glass bottom boat ride! This boat ride gives you an opportunity to view the wildlife in the water without getting wet. The 30-minute glass-bottom boat tours are offered daily and are $13 adults and $12 kids. Park admission is $2 per person. The Silver River flows five miles from the head spring to the Ocklawaha River with opportunities to see birds, turtles, alligators and fish. The park has a café and also rents kayaks, canoes and paddleboards.