The Truth About Living in Florida
Posted by Jenni Booth on Monday, March 29, 2021 at 12:34 PM
By Jenni Booth / March 29, 2021
Comment
We get questions all the time about what we love and hate about living in Florida. Here are some of the pros and cons of living in the Sunshine State.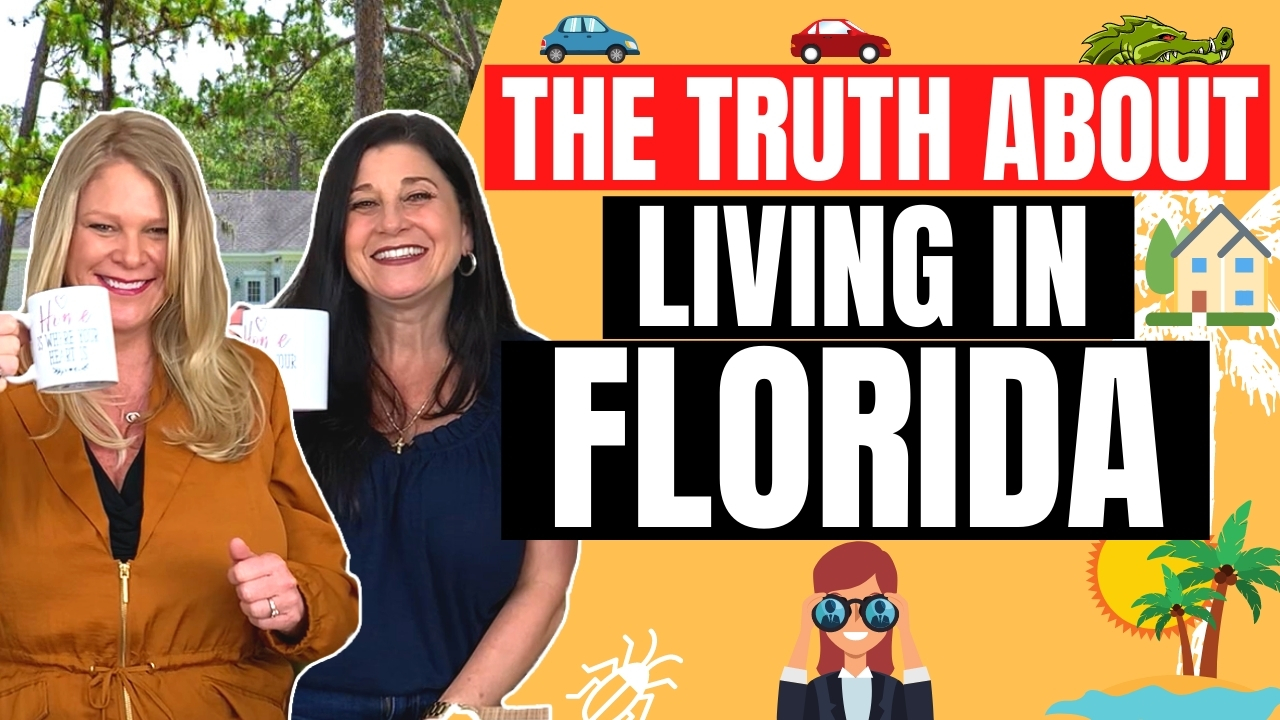 Click picture for video or https://youtu.be/3VOmdAI9vcY
Seasons. People ask if we will miss the change of seasons when living in Florida. Honestly we do miss that but the truth is we do get a little bit of color on the trees and falling leaves. And we do get cooler temperatures. In December, January and February we can get freeze warnings and temperatures can drop into the 30s overnight. But no snow!
It's hot and it rains. We also get a lot of questions about how hot it is. Well living in Florida the summer is hot. But when it's hot you go from an air conditioned house to an air conditioned car to an air conditioned store. We would much rather that than put on our coat, scarf and gloves, de-ice the car and shovel the snow just to go to the grocery store. Living in Florida during the summer also means rainy season. Yes it rains, usually every day, in the summer. But generally it's an hour or two and then the sun is back out. It's rare to have washout days with a full day of rain.
Hurricanes. Another weather questions we get asked a lot is what about hurricanes. Florida does get hurricanes but the Tampa Bay area has been lucky to not have a direct hit in many years (knock on wood!) Now, you know it's coming so you'll have time to make plans. And except for the coastlines and flood zones near the coastline, lakes or rivers, most of the greater Tampa Bay area is not in an evacuation zone. Generally the Tampa Bay area can have the inconvenience of no power for a few days after the storm. But many in Florida have a generator or make plans to leave the area when a hurricane warning is posted.
Landscaping and plants. The growing season is almost year round when living in Florida. Southern grass is definitely different than northern grass. While in the north many run around barefoot in the soft grass in the summer, that isn't the case in Florida. The Florida grass is course with dirt, ants and bugs so its not as comfortable to walk around barefoot. You'll be cutting the grass at least 10 months out of the year.
As far as plants, Floridians can grow a large variety of plants and flowers and the area is great for gardening. The season for planting might be different but most vegetable and fruit plants grow year round here in the Tampa Bay area. You do have to contend with bugs and the hotter weather but we've been successful with backyard gardening. And if you're not interested in taking care of your lawn there are many local landscape companies that will take care of it – mowing, edging, pruning and cutting plants and trees – for around $100 a month.
Bugs. Yes Florida has bugs but they don't rule our life. One of the "famous" Florida bugs we see is lovebugs. They are small bugs that are seen for a few weeks in May and September. You'll know its lovebug season because your car and windshield will be covered with the deads bugs. They don't sting or bite but they will eat away at the finish on your car if you don't wash them off. But you can easily drive through an automated car wash to clean them off. Other bugs we typically see are palmetto bugs (cockroaches), mosquitos and ants. As part of your routine maintenance, you should have a pest control company spray your home (for around $300 a year) to eliminate bugs in your home. You'll still see ants – including red ants and fireants – and mosquitos outdoors, especially during the rainy summer months.
Pools. With such great weather almost all year, pools are popular year round when living in Florida. Most pools in Florida are screened in which helps keep the bugs out and also helps with maintenance by keeping away leaves. Because of heaters (solar or gas) most Floridians can use their pool year around. What a huge advantage that is! Up north people open the pool from Memorial Day to Labor Day where in Florida we really can use the pool year round.
Wildlife. We get a lot of questions about animals. Especially alligators. Yes there are alligators. And if you live near a lake there will likely be a gator in the lake. But you may never see them. Generally they are small and they won't bother you if you don't bother them. We have lots of different species of birds and animals and often see are deer, sandhill cranes, turtles, osprey and hawks.