Tampa neighborhoods: Hyde Park
Posted by Lisa Carroll on Wednesday, April 20, 2022 at 5:02 PM
By Lisa Carroll / April 20, 2022
Comment
Did you know Tampa was recently named the hottest housing marketing in the COUNTRY by Zillow? Yep. People are flocking to Florida for the great weather (361 days of sunshine!), more than 35 miles of award-winning beaches, no state income tax and a governor who doesn't mandate restrictions during the pandemic.
So why is Tampa so hot? Hyde Park, a neighborhood just west of downtown Tampa, is one of the reasons.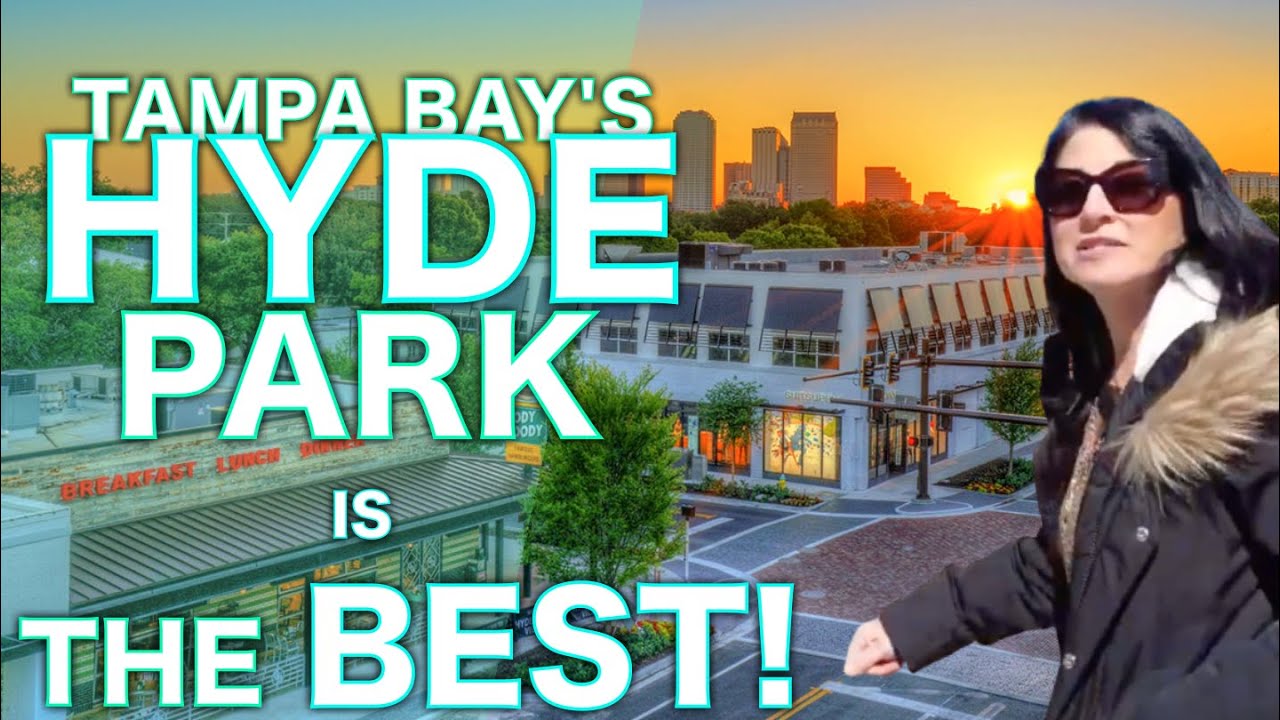 Watch video tour here
But first, the backstory. The Hyde Park neighborhood was established in the 1880s when railroad financier Henry B. Plant built the first bridge across the Hillsborough River at Lafayette Street (now Kennedy Boulevard). A group of wealthy citrus growers, cattle ranchers and shipping magnates, led by Plant and O.H. Platt, cleared land and built grand homes along what is today's Bayshore Boulevard. Hyde Park became home to Tampa's elite and today remains one of Tampa Bay's most prestigious historic neighborhoods.
Where's Hyde Park located?
Hyde Park is a historic within the city limits of Tampa. It includes Bayshore Boulevard, Hyde Park Village and SoHo (South Howard Avenue). Its ZIP code is 33606. It is adjacent to the University of Tampa and Downtown Tampa. Roughly, the boundaries of the neighborhood are the Hillsborough Bay to the east, Kennedy Blvd to the north, Bayshore Boulevard to the east and south, and Armenia Avenue to the west.

The area includes scenic Bayshore Boulevard, the upscale Hyde Park Village shopping district and the SoHo entertainment district.
What kind of houses will I find?
Traveling through Hyde Park's oak-tree-shaded streets, you'll see cute historic bungalows, modern houses, mega-mansions, condos, townhouses and multi-family residential developments.
Hyde Park's Bungalow Terrace—a block of 19 homes dating to 1913— is a unique stretch of the Hyde Park neighborhood that mimics a planned development comprised of Craftsman-style bungalows widely used in California. They were built because of the low cost, adaptability, craftmanship and low maintenance of their structure. However today this is a prime street in a prime neighborhood. The row of historic homes face each other to form a pedestrian pathway shaded by beautiful oak trees. Prices on this street for a 2 bedroom/2 bath (1360SF) start at $600K. But these homes rarely come on the market. In fact, we saw only 2 that sold in the past 2 years!
What will it cost me?
You'll find some 1-bedroom condos (650SF) starting around $200K but most of the historic bungalows start around $600K (??? CHECK) with mansions and Bayshore waterfront condos starting at more than $1 million. And you can find some properties at more than $5 million!
What about the schools?
The Hyde Park neighborhood has some of the best schools in Hillsborough County. In fact, all of the zoned schools in Hyde Park are A-rated including Mitchell Elementary (A), Gorrie Elementary (A), Wilson Middle (A) and Plant High (A). Plant High is widely known as the top high school in Hillsborough County, No. 1 school in the Tampa Bay region and is ranked No. 38 in the state of Florida.
What about shopping, restaurants and activities in Hyde Park?
The heart of the Hyde Park neighborhood is the upscale shopping district Hyde Park Village. It has events (trivia night at Irish 31, a running club, live music on weekends, a fresh market the first Saturday of every month) as well as restaurants and shopping.
Some of the local eateries include Buddy Brew (coffee), Forbici (Italian), Goody Goody (diner famous for its burgers), Meat Market (steakhouse), Timpano (Italian) and several sweet shops including Oddfellows Ice Cream and Sprinkles.
Hyde Park Village also has specialty shops including Color Me Mine (pottery/painting), Downtown Dogs (natural dog treats) and Candle Pour (make your own candles).
And, of course, we can't forget the shopping. Stores in Hyde Park include Kendra Scott, Francesca's Lululemon, Vineyard Vines and more.
SoHo (South Howard Ave) is a multi-faceted entertainment district with many of the neighborhood's top-rated bars, nightclubs, boutiques and restaurants. It begins at Howard Avenue south of Kennedy Boulevard and ends at Bayshore.
Location, location, location
Hyde Park is convenient to it all – Tampa International Airport; Downtown Tampa, Midtown and Westshore business districts; the Selmon Expressway and I-275; Tampa General Hospital; museums; Amalie Arena; the Florida Aquarium; MacDill Air Force Base and the Palma Ceia Golf & Country Club.
Bayshore Boulevard, the world's longest continuous sidewalk, is a 5-mile park connecting Hyde Park to Downtown Tampa's 2.5-mile Riverwalk. Bayshore has some of Hillsborough County's priciest real estate and is home to Tampa's annual Gasparilla parade.
Hyde Park is also within 15 minutes of two of Tampa rapidly growing business areas: Westshore and Midtown Tampa. Westshore, adjacent to Tampa International Airport, is home to two upscale malls and many businesses. Midtown Tampa is located on the southeast corner of Dale Mabry Highway and I-275, one of the most heavily traveled intersection in the region. It's a fast-growing area for residential housing, businesses and shopping/restaurants.