Spring cleaning: Organize your garage
Posted by Lisa Carroll on Monday, April 10, 2023 at 11:00 AM
By Lisa Carroll / April 10, 2023
Comment
It's spring and that means it's time to clean out the garage. Uncluttering the garage is usually a big task as it becomes a catch-all for cases of water, sports equipment, seasonal items and lawn equipment.
Let's break it down so you can get your garage organized.
Storage
First up: storage. You need to corral the chaos and make the most of this valuable space. A garage in Florida acts as a basement of sorts and to utilize it best you need to have multiple storage options: shelves, hooks, cabinets and more.
If your house is bursting at the seams, or simply short on storage options, the garage is a great option. With careful planning you can transform your garage from a messy catch-all to an efficient, well-organized household space.
Use hooks to hang bikes from the ceiling or a pegboard for tools. Bins on shelves can be labeled for sports equipment, seasonal storage and more.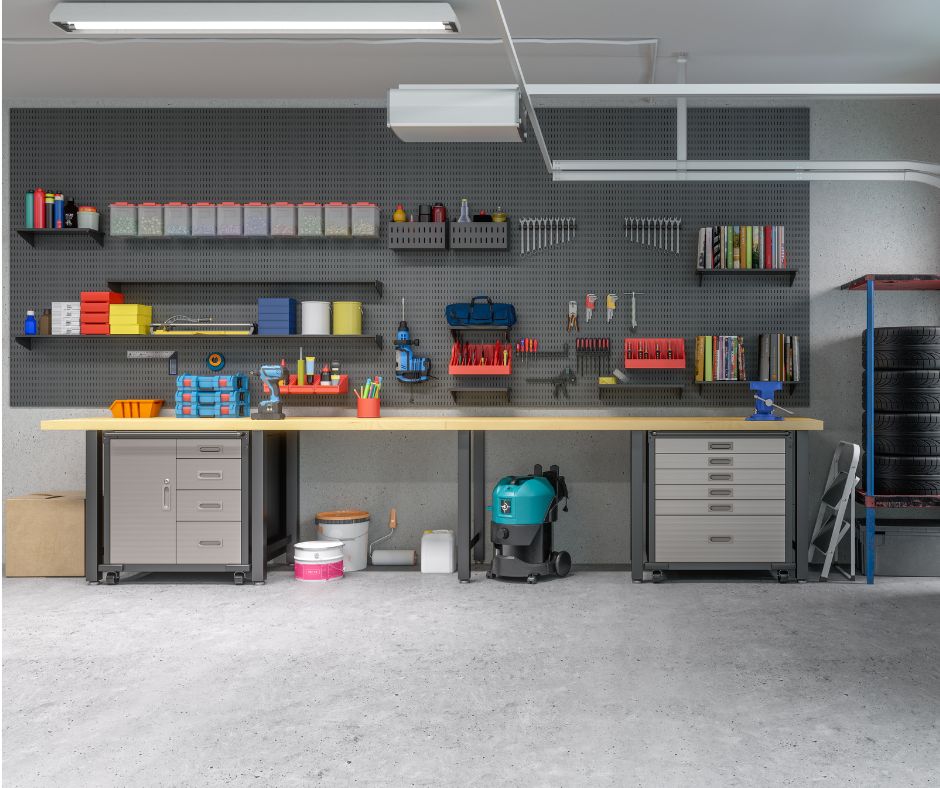 Divide and conquer
First things first: Get rid of anything you no longer use or anything broken. This is a big project. After all how many shovels, life jackets and basketballs do you need? I like to start on one side first. Hopefully you can remove enough to see the floor and have empty shelving. After you've narrowed down the contents of your garage, sort everything into groups. Keep garden tools/sports equipment/holiday decor together. Items used together ought to be stored together.
Now for organizing. Decide how to best store your items: hooks, racks, shelves, etc. When possible use clear, stackable storage bins with lids to store similar items. The lidded bins will keep your belongings clean, protect against insects as well as increase the amount of usable floor space if put on a shelf or stacked neatly against the wall. And it looks better than items just crammed on a shelf.
Where do we put it all?
It's important to use space efficiently. Be strategic in how and where you keep items. Personally I store my paper products and cleaning supplies in the garage. So I have hooks on the wall behind the door for mops, brooms and the Swiffer. Then my extra paper products and cleaning supplies are in clear bins on a shelf near the door that are easily accessible when we need a roll or paper towels or more cleaning spray. Everything is accessible for when we need them. Other items – like beach chairs and coolers that are used less frequently are hung on a wall or on a shelf in another area of the garage.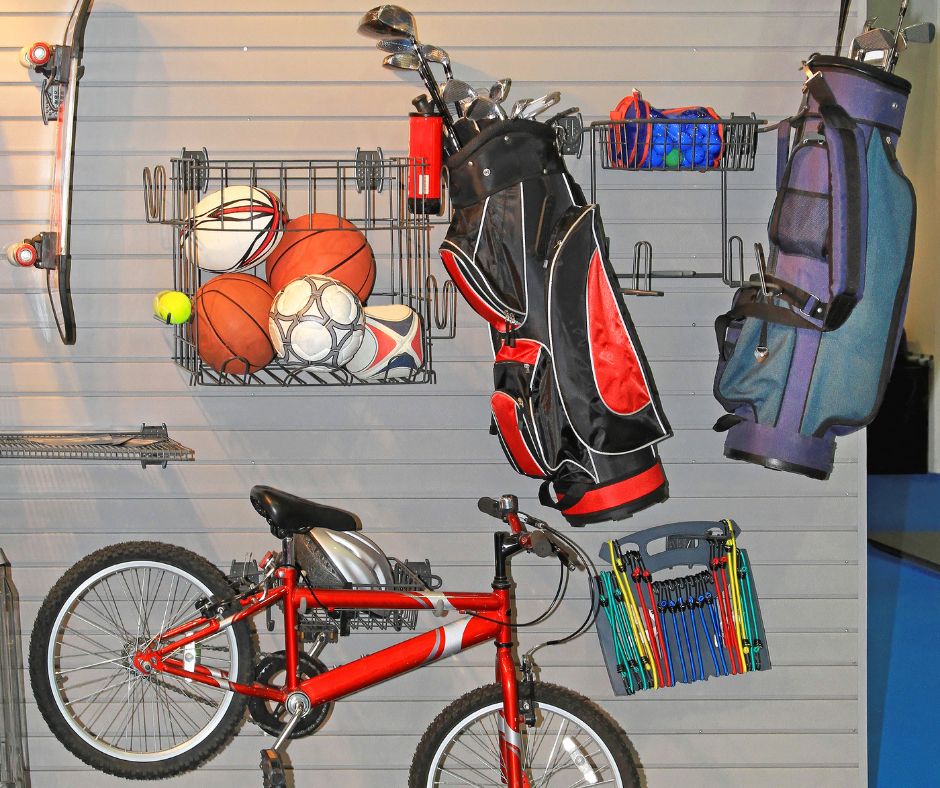 Off the wall
The key to garage storage and organization is getting (and keeping) things off the floor. Shelves and wall hooks are great for this. I have an area dedicated to lawn equipment (shovel, rake, edger, etc.) as well as shelving for sports equipment, beach items and even outdoor games. One of my favorite storage options is ceiling storage. What? Yes you can have racks installed on your garage ceiling to store your clear storage boxes. They makes it so easy to keep extra items that are only occasionally used up and out of the way.
Another popular option is a pegboard. This is easy and inexpensive to install and can be outfitted with a variety of hooks and clamps to store and organize everything from tools to extension cords to tape. Other storage options to consider are shelving, whether a wall-mounted track system or a set of stand-alone units; cabinets; hooks; and tool cabinets with drawers. We have large hooks on the ceiling to store bikes and ladders to keep them accessible but not using valuable floor space.
Keep it safe
As you're organizing your garage, it's important to keep safety in mind. It's unsafe to store gasoline and propane in the garage; a single spark could lead to fire. Likewise, if you have children or pets, you should store hazardous materials like fertilizer and pesticides far out of reach. Finally remember the Florida summers are HOT and humidity is high as your garage is not air conditioned. So be careful when storing items that could melt or be ruined by mildew (like clothing and extra bedding). The garage isn't a good option for electronics, old records/film/photographs, and food or soda unless it isn't temperature sensitive or it is consumed quickly. In fact, even canned food stored in a hot garage will quickly spoil.
Schedule a weekend to clean out the garage and find useable space for all your necessities.