Looking to sell but interest rates have you hesitating?
Posted by Lisa Carroll on Tuesday, August 15, 2023 at 10:04:04 AM
By Lisa Carroll / August 15, 2023
Comment
Looking to sell but interest rates have you hesitating? Team TLC recently had a training with local mortgage broker Heidi Lombardi, who is in the top 10 nationwide of securing mortgages. This graphic really stood out to us as a game changer for homeowners looking to sell:
We often hear hesitant sellers who don't want to take on a higher mortgage interest rate on their next home. Have they considered that home prices will continue to rise so they won't "get ahead" for roughly four years if they wait for interest rates to drop – if they do. One thing is pretty certain: we won't see the historically low rates below 3% anytime soon.
So if you're a homeowner understanding your equity may be exactly what you need to help you feel more comfortable making your move.
What Equity Is and How It Works
Equity is the current value of your home minus what you owe on the loan. And recently, that equity has been growing far faster than you may expect.
Over the last few years, home prices rose dramatically, and that gave your equity a big boost very quickly. While the market has started to stabilize, there's still an imbalance between the number of homes available for sale and the number of buyers looking to make a purchase. Simple supply and demand: lower inventory means more competition and higher prices.
How Equity Benefits You in Today's Market
With today's affordability challenges, that equity can be a game changer when you move. Here's why. Based on data from mortgage companies and the U.S. Census, nearly two-thirds (68.7%) of homeowners have either paid off their mortgages or have at least 50% equity.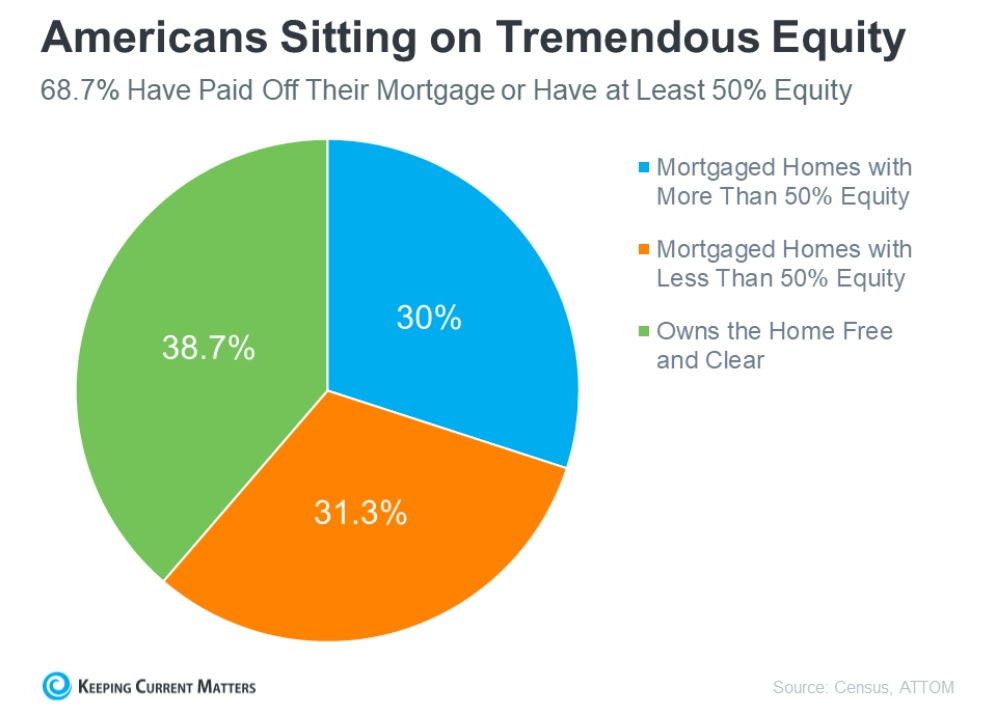 Once you sell your house, you can use your equity to help with your next purchase. It could be some (if not all) of what you'll need for your next down payment. It may even be enough to allow you to put a considerably larger down payment on your next home, so you don't have to finance quite as much. And, if you've been in your current house for years, you may have even built up enough equity to pay in all cash. If that's true for you, you'd be able to avoid borrowing altogether, so you wouldn't have to worry about today's mortgage rates.
How To Find Out How Much Equity You Have
The best way to learn how much you have is to reach out to Team TLC for a FREE home evaluation. We can help you compare what you owe to the current value. We can connect you with a local lender to discuss your options for a new loan.
Bottom Line
If you're planning to make a move, the equity you've gained can make a big impact. To find out just how much equity you have in your current home and how you can use it to fuel your next purchase, connect with us today.
Source: KCM and Lombardi Team at Pioneer Mortgage Funding