How to Stage and Show a House with Small Children
Posted by Lisa Carroll on Monday, June 22, 2020 at 9:48 AM
By Lisa Carroll / June 22, 2020
Comment
Oh, little kids... wonderful blessings but can be tricky staging fodder. What can you do with all the toys? It's obvious that children live in a home and many homeowners think nothing of it when it comes to staging.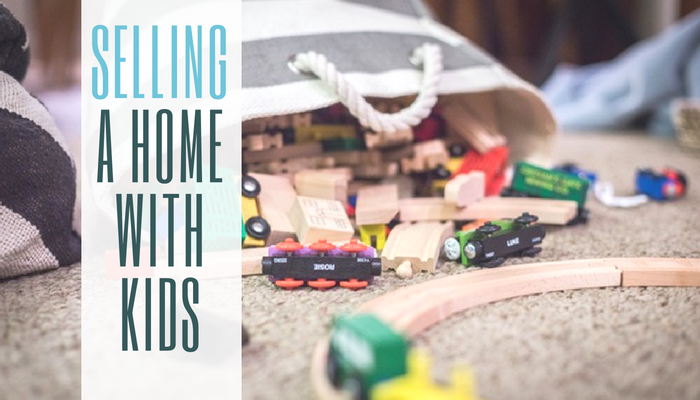 However, studies have shown that buyers do not appreciate that "lived-in" environment. They obviously know people live in the home but if you want top dollar for your property you have to stage it and to show it so that it beats out your closest competition and in today's market, much of the competition is in new homes. Those model showroom homes are staged perfectly, and you will find toys strewn about or a plate out of place.
So how can you stage and show your home for sale when you have kids?
Clear Out
For starters, plan in advance. Give yourself at least a week or two to clear your home of any clutter and get rid of things that you just don't need. This is a great opportunity to donate items, sell items or throw things away that are just trash. Go room by room clearing out each room, removing half of the items from closets, drawers, and cupboards, and organize every space as it should be.
Keep kids involved.
Let them know the process of selling a house and that it is their responsibility as well to keep the house clean and clear of clutter. Try to set a rule in the house that anything can be cleaned up within 30 minutes. Most of the time you'll have about an hour or two before a showing, but sometimes, spontaneous showings could give you less than 30 minutes. If something gets pulled out and played with, it should be able to be cleaned up within 30 minutes. Don't pull anything else out to play with until the previous items are put away neatly.
Related: What happens if your Realtor® wants to lower your home's price?
The Playroom
It's okay to have a playroom as long as it is staged properly as well. You can have a dedicated book area, and a small tea party set up on a table and chairs or even a media center with the beanbag and nice holder for game controllers.
Remove temporary items.
This means you want to remove children's artwork from refrigerators, school pictures, backpacks, coats, and hats. All of these temporary items that are needed throughout the day or the week should be put away nice and neat in a coat closet or hung up in the child's room. This not only keeps things organized but it looks nice and neat as well.
Try to prearrange an open house.
If you're planning on having an open house, try to get kids and pets out of the house at least three or four hours before the open house, which will give you an uninterrupted time to clean, organize and pull things together without kids or pets on doing something the minute you clean it up.
Related: How to Maximize the Coziness of Your Home
Don't stress.
Do the best you can but don't stress that every little thing is not in place. Talk to your real estate agent about the best way to stage your particular home. Staging is different depending on the layout of your house, the age of your kids, and whether or not you have pets. Teenagers should be responsible for keeping their rooms and their areas as clean as possible. Smaller children can get involved by doing the best they can as long as they have a plan and you've talked about how to prepare an area before a showing.
Staging a home with kids can be stressful but if you plan ahead and prepare everyone in the family, you have a good plan of attack when it comes to showing the house.
READ MORE ABOUT SELLING YOUR HOME IN SUMMER 2020
For more answers to your questions about staging and selling your Land O Lakes home or anywhere in the Tampa area, contact us today! We are the Carrolls of Carrollwood!