Homeowner Halloween Safety
Posted by Jenni Booth on Tuesday, October 19, 2021 at 9:27 AM
By Jenni Booth / October 19, 2021
Comment
Halloween is a special evening of fun, not only for those little dressed up candy-grabbing visitors, but also for the homeowners who pass out those goodies. And this year it's on a weekend. A new meaning to Sunday Funday. It's fun for homeowners as long as they are able to follow a few of these basis safety tips.
Tip #1: Don't Pass Out Candy Alone
Although Halloween is geared towards younger children, many adult tricksters are also out and about with mischief on their minds. You are going to be opening your door to many strangers. By having more than one adult present you will lessen the chance that the next trick-or-treat you hear won't turn into a home invasion.
Tip #2: Keep Pets Out of Sight
On a night that is as busy as this one may be, with lots of door knocking and doorbell ringing, the commotion may scare your pet. Or a pet that rushes to the door could scare the trick-or-treaters. Also, the SPCA says that there are many reports of pets "escaping" out the open doors of their homes. The best way to keep everyone safe is to find a comfortable space for your pet away from all of the traffic coming to your door. If you hate the idea of locking your pet up, please make sure their ID tags are on them or that their microchip information is up-to-date. Another thought is that your pet will take quick action to grab up any treat that may be accidentally dropped, and candy, especially chocolate, may make your pet sick.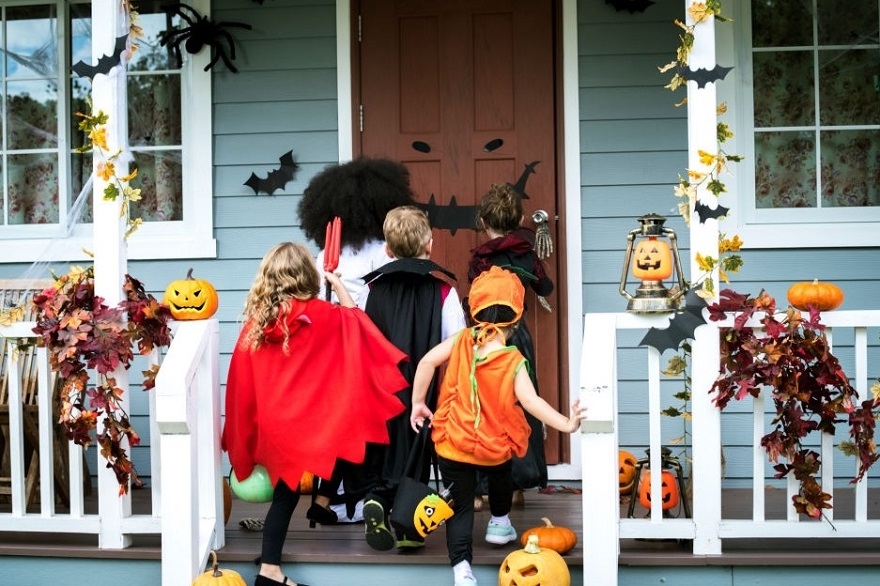 Tip #3: Make Outside Lighting Bright
It may be a good time to upgrade any outdoor lighting with the brightest light bulbs possible. Most trick-or-treating will be done after dark. In addition, your visitors may be masked, making it more difficult for them to see obstructions along your driveway and sidewalk. It's a good idea to move any potted plants and keep yard decorations away from walkways. If you are one of those homeowners that like to play spooky music outside, make sure that the electric or extension cords are safely tucked away and won't be tripped over by little feet.
Tip #4: LEDs Instead of Candles
When lighting up decorations or jack-o-lanterns, the National Fire Protection Association (NFPA) suggests using battery operated LED lights or glow sticks for lighting instead of candles. On average, 700 home fires occur each year due to accidents with Halloween decorations. Be safe and don't use candles in your pumpkins or decorations.
Tip #5: Avoid Becoming a Mischief Target
Unfortunately, this is a night for vandalism and other mischief. If possible keep your cars in the garage and turn on all outside lights, even those in the backyard. Let neighbors know if you will be away or help keep an eye on their homes if they are going to be out. After treating any visitors, when you close your door, lock it. It only takes a second to unlock it the next time the doorbell rings.
When it comes to being a responsible homeowner, Halloween safety is often overlooked. Always say alert to unusual situations to keep you and your property safe.