Go time: Hurricane season 2023
Posted by Lisa Carroll on Wednesday, May 24, 2023 at 1:10:54 PM
By Lisa Carroll / May 24, 2023
Comment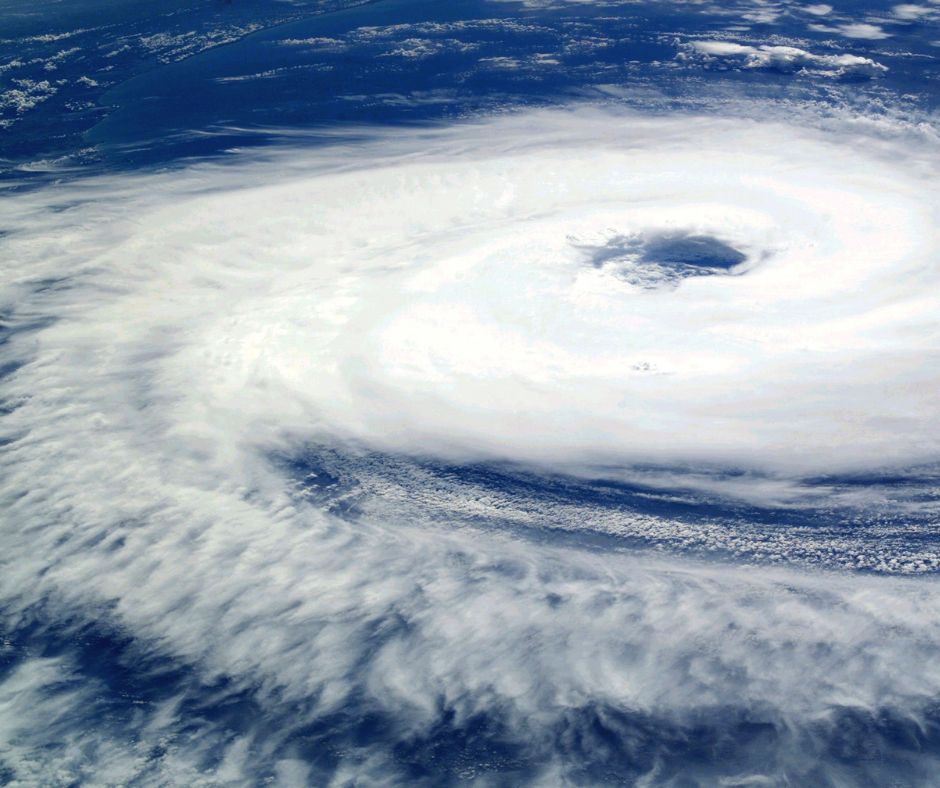 It's that time of year again Floridians: hurricane season. We hope the Tampa Bay area will be spared any major storms this year but the time to prepare is now.
Otherwise you, like every other Tampa Bay resident, will be fighting in the aisles of Publix for canned goods, bottled water and batteries. And it is doubtful Home Depot will have plywood, generators and tarps when a storm watch is issued.
Now is the time to prepare. I like to stock a Tupperware box of basic supplies in my garage so it is available if needed. These items have sometimes come in handy when we lose power after a particularly nasty afternoon thunderstorm. So what do you need?
Here are 6 tips to prepare today …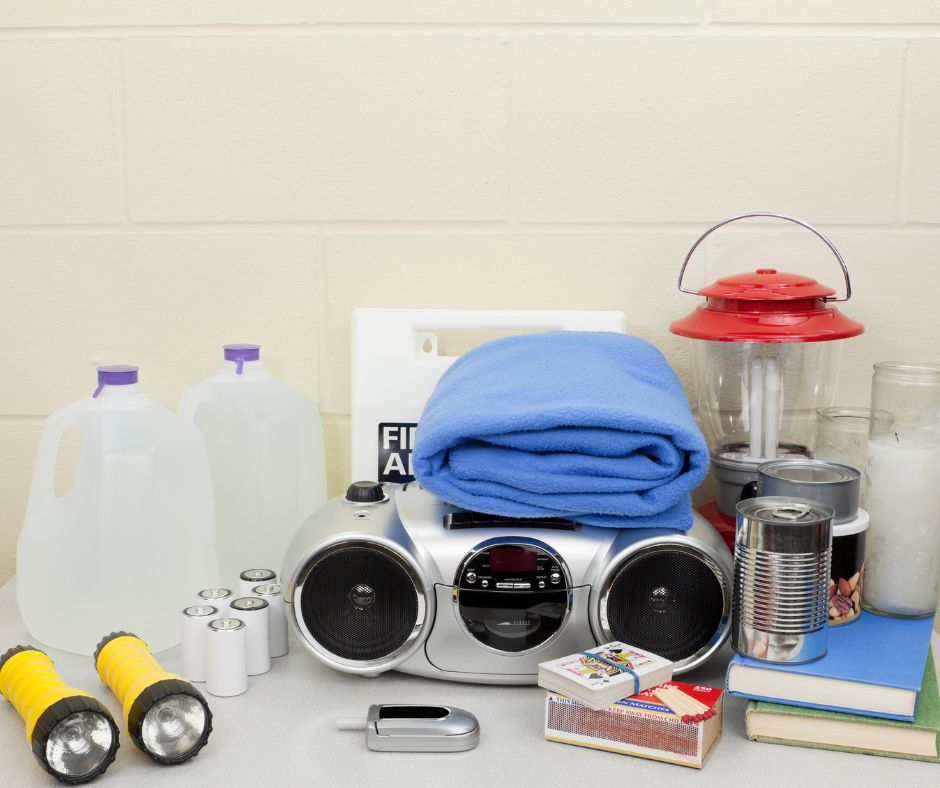 Gather supplies
Here's a handy list of supplies to have on hand. If you use the same box year-after-after, make sure to refresh food items and make sure flashlights and batteries work.
Print our hurricane preparedness checklist HURRICANE_CHECKLIST.pdf
General
2-week supply of prescription medicine
Batteries
Flashlights and lanterns
Battery operated radio
Cash
Cell phone chargers and charged battery packs
Multi-purpose tool
Soap, cleaning wipes
Paper towels, toilet paper
For kids
Snacks
Comfort items (stuffed animals, blankets)
Busy activities like Legos, games, books, coloring books with markers and puzzles
For babies: diapers, wipes, formula, bottles, food
For pets
Pet food for 7 days
Identification/medical records (proof of shots)
Any medication needed
A carrier and leash
Water and food bowl
Toys
First-aid kit
Bandages and gauze
Medical tape
Antiseptic wipes
Antibiotic ointment
Antiseptic solution (like hydrogen peroxide)
Tweezers
Scissors
Thermometer
Safety pins
Disposable sterile gloves
Skin rash cream, such as hydrocortisone
Cream to relieve insect bites and stings
Painkillers
Antihistamine tablets
Food and water
Water (at least a gallon per person, per day; minimum 3 days)
Note you can also fill up containers and the bathtub with water for flushing the toilet and brushing your teeth
Food (3 day supply non-perishable food)
Remember to include a variety of canned goods including fruit & meat and snacks like peanut butter, crackers, granola bars and cereal
Special items for family members with dietary restrictions including infant formula
Make a plan
If you are in an evacuation zone, know where to go and what you need to bring with you. If you plan to shelter in place, make sure you have all necessary supplies (food, water, gas for generator) in the event of power outages. Often times people forget to plan for their pets. Know pet-friendly shelters or have a plan of somewhere to stay that can accommodate your pet.
Don't rely on memory of what you want to bring. Have a checklist, which may include important documents, medicine, cash, etc.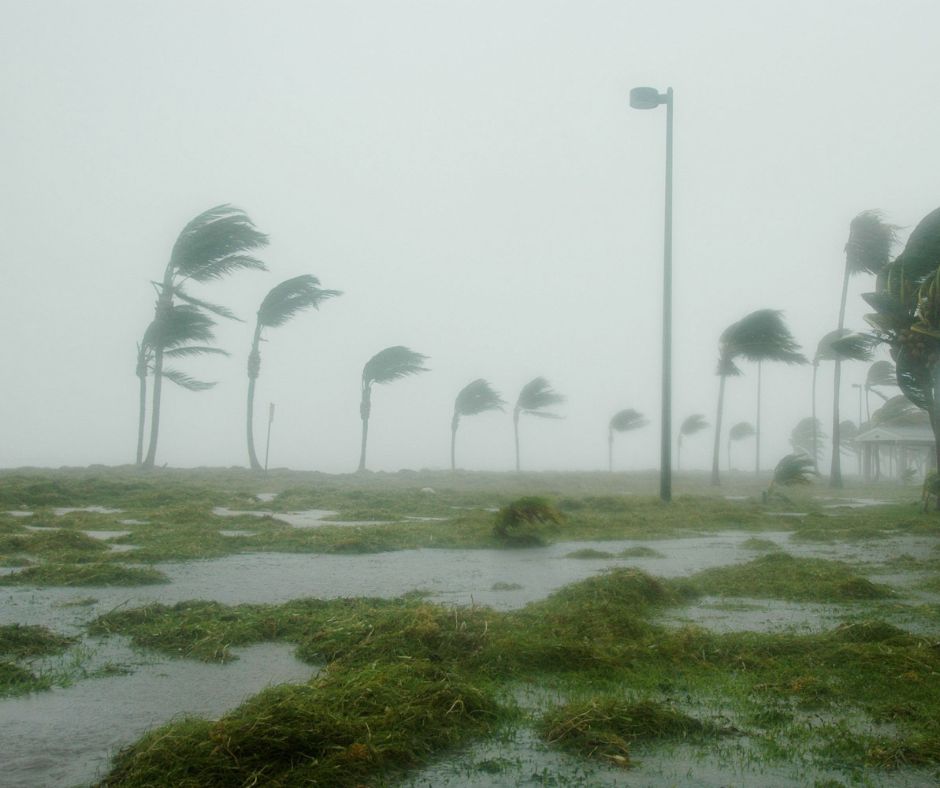 Know what your insurance covers
Now is a good time to make sure your homeowners policy is up to date. Don't assume that just because you have insurance that everything will be covered. For example, flood insurance is generally a separate policy whereas water damage is included in your general policy. Our policy doesn't include our fence or pool cage. So if there were damaged we would be on our own to repair.
Know what you've got
If you have to leave your home make sure you bring copies of all important documentation you may need – including home and car insurance. In the event of damage many insurance companies will want proof of what was lost. So once a year (now!) take a video of your home contents including expensive electronics.
It's also a good time to make sure you have backup information printed. If you lose power might now be able to access important documents or phone numbers. Make a list of key phone numbers (if you phone loses power and you can't recharge you need a hard copy of people to call), medical and homeowners insurance information and financial information.
Have an emergency "Go Bag"
What if you had to leave your home with only a few minutes notice? No we're not encouraging you to react like an escaped convict but if you had to leave quickly for a family emergency (medical, weather) would you know what to take? Would you be able to gather it quickly? Medicine? Glasses? Keys? Phone charger? Cash? Just like an expectant mother, have a bag packed for emergencies.
Hurricane watch vs. warning
A hurricane watch means hurricane conditions (sustained winds of 74 mph or higher) are possible in a stated area. Experts announce hurricane watches 48 hours before they expect tropical-storm-force winds (sustained winds of 39 to 73 mph) to start.
A hurricane warning is more serious. It means hurricane-force winds are expected in a stated area. Experts issue these warnings 36 hours before tropical-storm-force winds are expected in the area to give people enough time to prepare for the storm.
A cute way we like to think of it relating to tacos: a watch means you have all the ingredients to make tacos. A warning means the food is ready and you need to eat right now. Like this cute meme: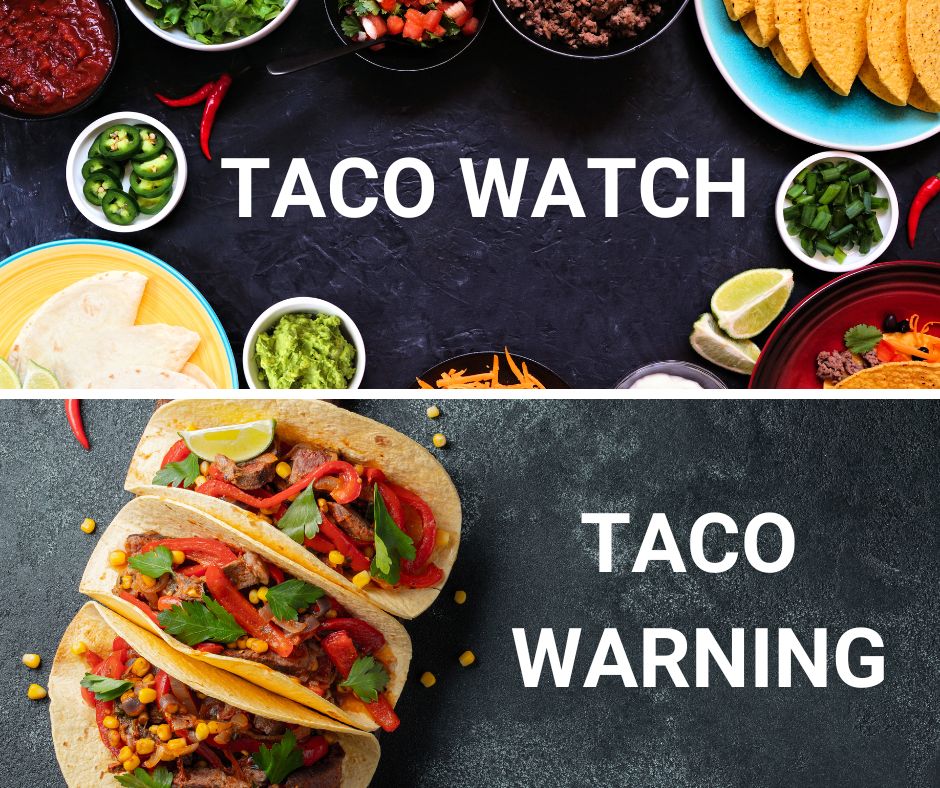 2023 Atlantic hurricane season names
Arlene
Bret
Cindy
Don
Emily
Franklin
Gert
Harold
Idalia
Jose
Katia
Lee
Margot
Nigel
Ophelia
Philippe
Rina
Sean
Tammy
Vince
Whitney