Flooring for Florida homes
Posted by Lisa Carroll on Tuesday, April 12, 2022 at 11:42 AM
By Lisa Carroll / April 12, 2022
Comment
Florida weather not only gives you bad hair days, but also wreaks havoc on your floors. Florida is famous for being the Sunshine State as well as its unforgiving humidity (hello June, July, August and September!) Because of the heat and humidity, choosing the appropriate flooring for your home can be challenging.
There are certain types of flooring that are best for the humid Florida climate. You want your flooring to stand up to the heat and humidity, and the dripping clothes and wet shoes when you run in after an afternoon thunderstorm.

Before we get into the nitty gritty of flooring types, a quick Q&A.
What are the best flooring types for Florida?
You need flooring that will stand up to the heat and humidity of Florida while still looking amazing. Flooring in New York, Michigan and Illinois is different from what you need in Florida. Rarely will hardwood floors work in your home due to the humidity. There's always carpet but we're focusing on solid-surface flooring here. These options will work in kitchens, most bathrooms, bedrooms and living areas.
Ceramic and Porcelain Tile
Laminate Flooring
Vinyl Flooring
Wood Look Tile
Natural Stone Tile
What is the best flooring for high humidity?
We'd go with wood-look tiles for a warmer, more natural look. And ceramic or porcelain tiles for uniqueness and durability. Either way, tile is a popular option in Florida homes.
Why do most Florida homes not have carpet?
The tropical climate in Florida poses a real challenge and traditional flooring like hardwood and carpet are not an option. Carpet is harder to keep clean and collects dusts and allergens. And those muddy footprints are harder to clean off carpet.
OK. Let's dig into the different flooring types that work well in Florida's humid, rainy climate.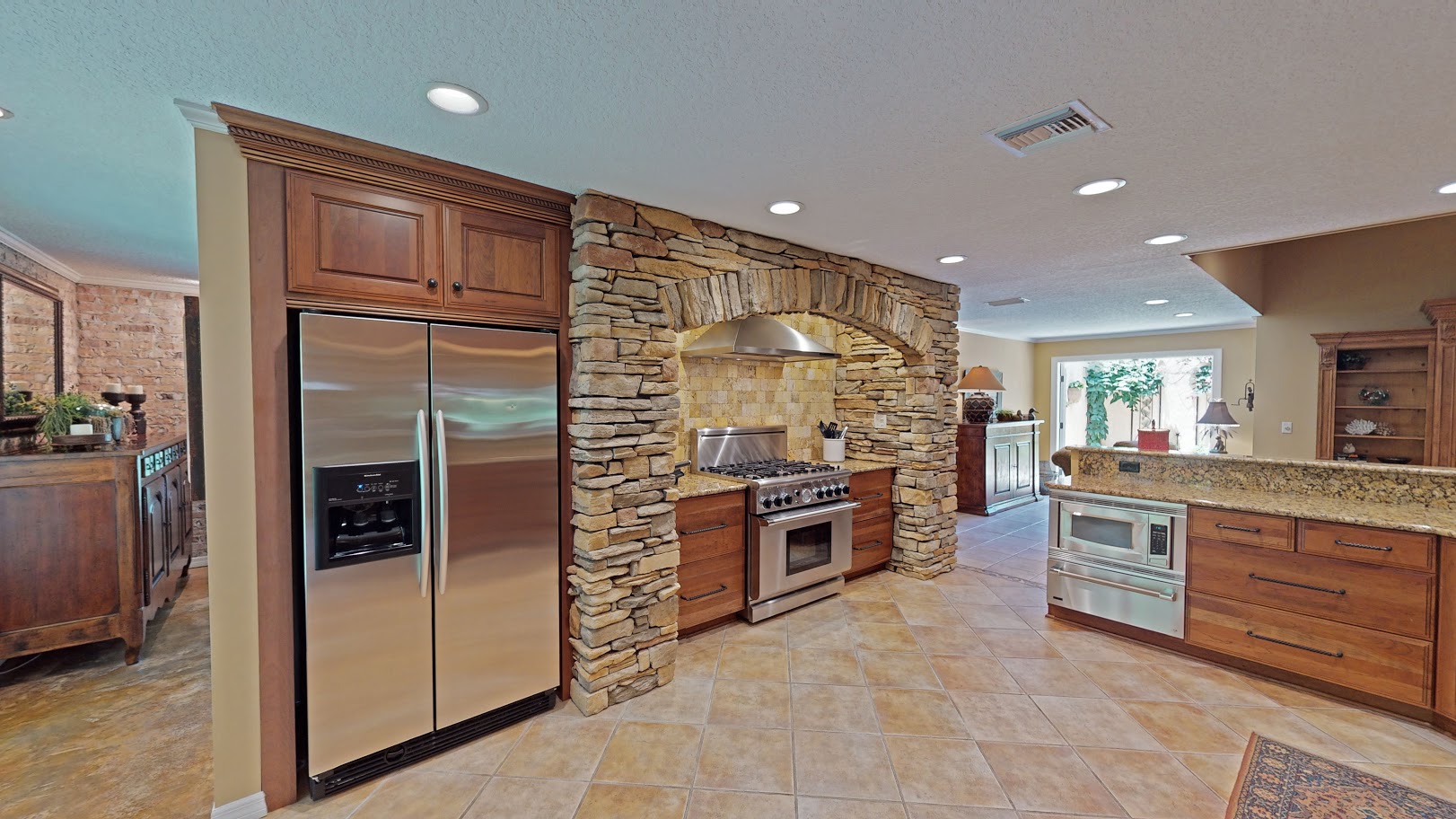 Ceramic and Porcelain Tile
Ceramic and porcelain tile is a popular flooring option for Florida homes. Both are man-made clay tiles that are made by being fired at a very high temperature to reduce the water content of the clay. Because the tile is made at such a high temperature, it is harder and more durable than other flooring materials, meaning that it will last longer. Tile is very water-resistant and is great in kitchens, bathrooms and laundry rooms. It comes in a variety of styles, colors and finishes.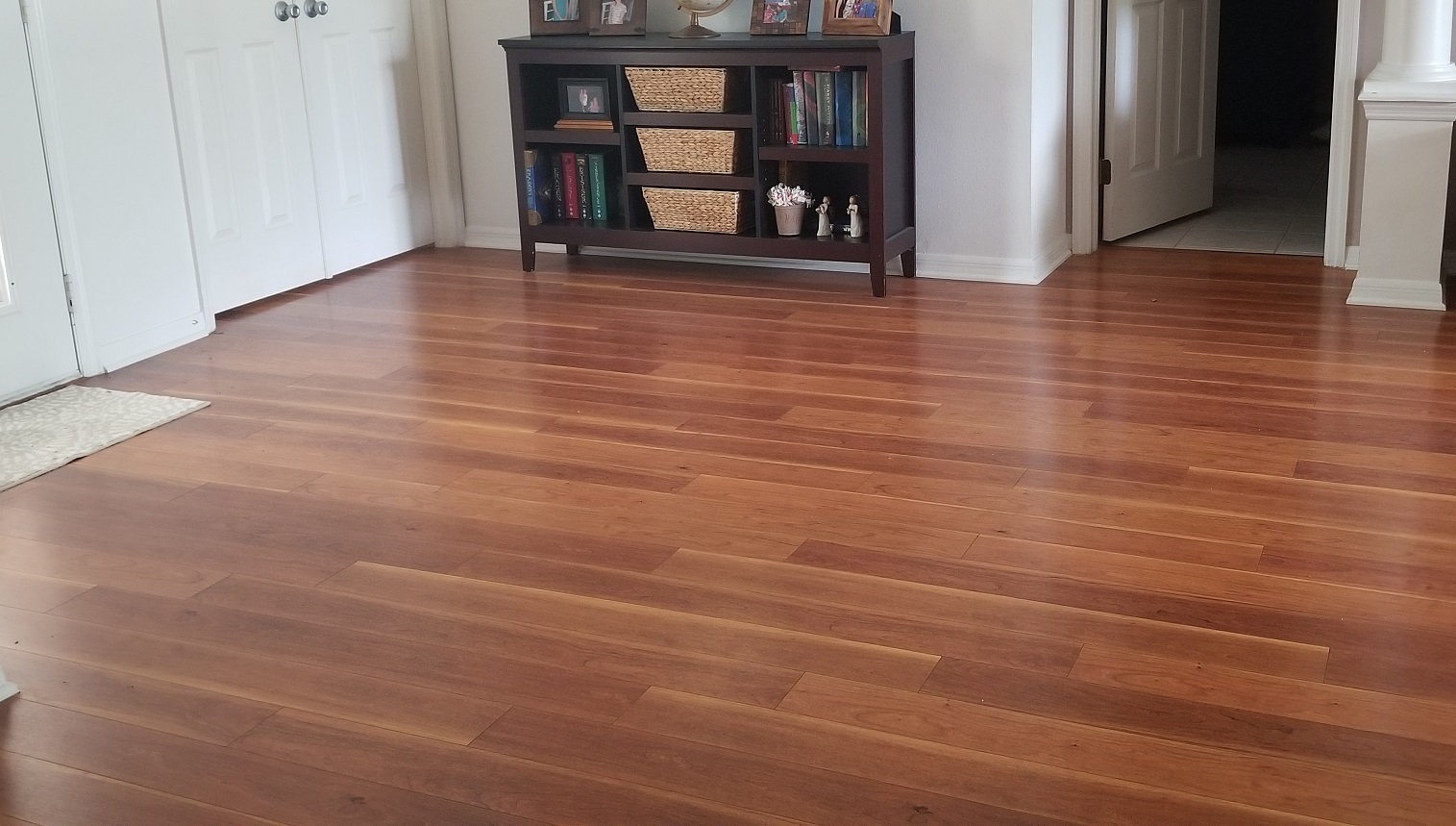 Laminate Flooring
Laminate flooring is a synthetic material made to imitate the look of natural wood. While it is known for its durability, laminate flooring tends to absorb moisture so it isn't recommended in water-prone areas like bathrooms. Laminate is made to look like real wood and is most often used in living rooms, hallways and bedrooms.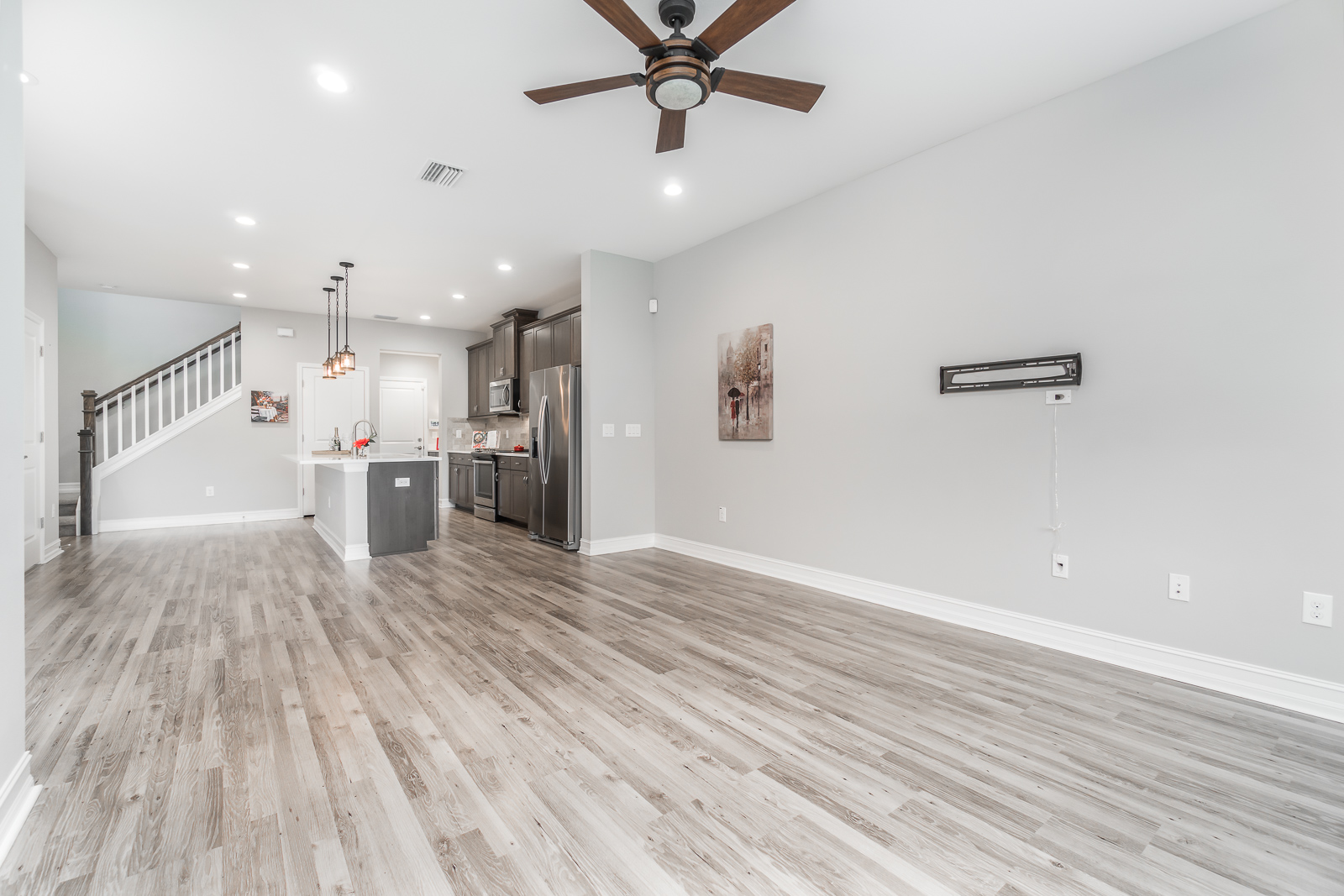 Vinyl Flooring
Vinyl plank flooring is a popular and affordable option if you like the look of hardwood floors. Vinyl plank flooring is a step up from most laminate because it is water resistant against the humidity and backyard pools! Beware though if the flooring connects to other surfaces in your home. If the toilet leaks while you are at work and rolls off your ceramic bathroom tile it will likely damage vinyl plank if the water spreads to other rooms. Also if you replace one area with vinyl while keeping laminate in another area you could have water seep under the vinyl and spread to the laminate causing damage.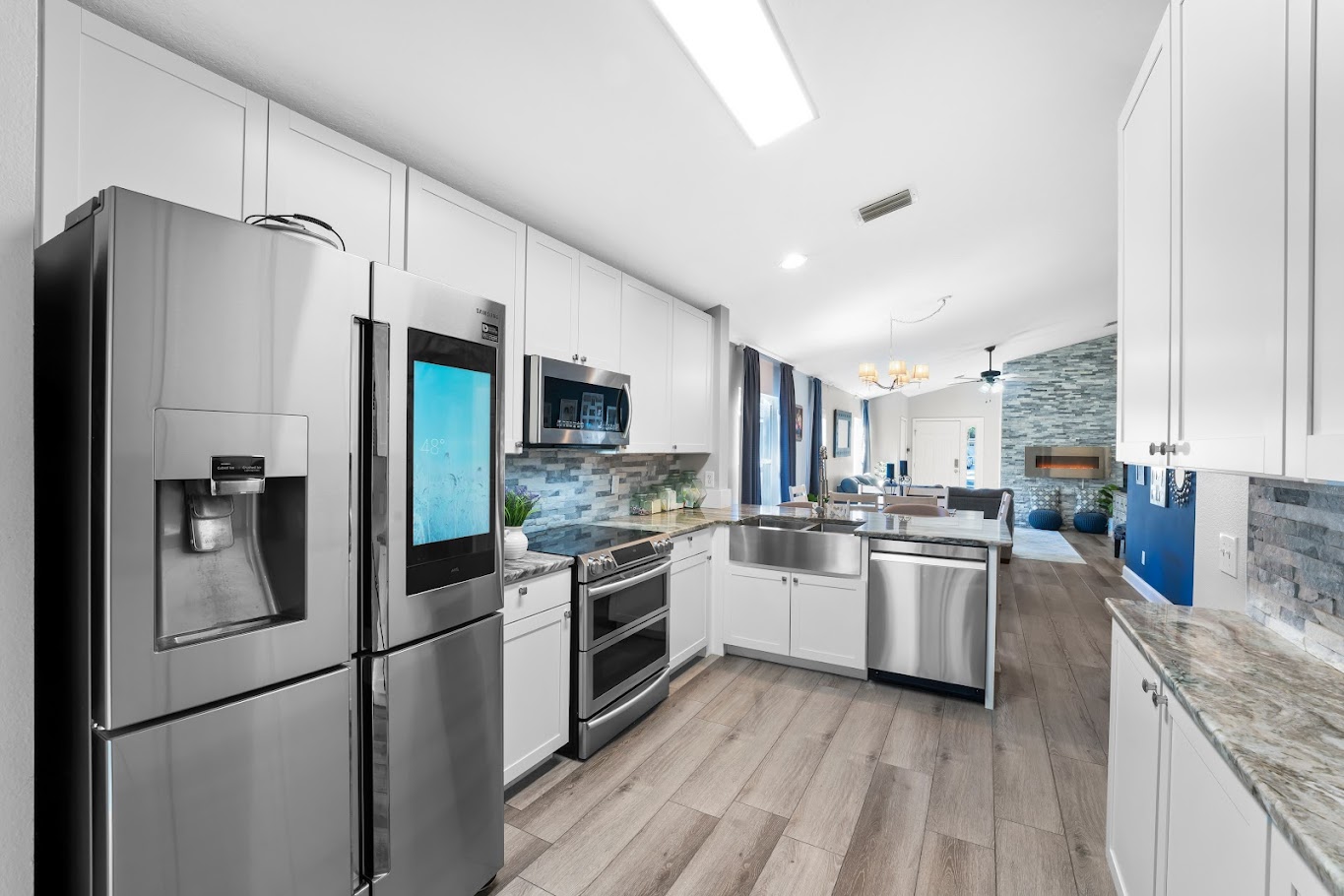 Wood Look Tile
Things changed in the flooring world in 2015 when a new product came on the market …. wood look tile! Finally something that blends the best of both worlds. Tile is cool to touch during the hot summer months when your air conditioner is working overtime. But the wood look is visibly pleasing to those who want a warmer or more natural look. Wood look tile is the most popular option among homeowners in Florida.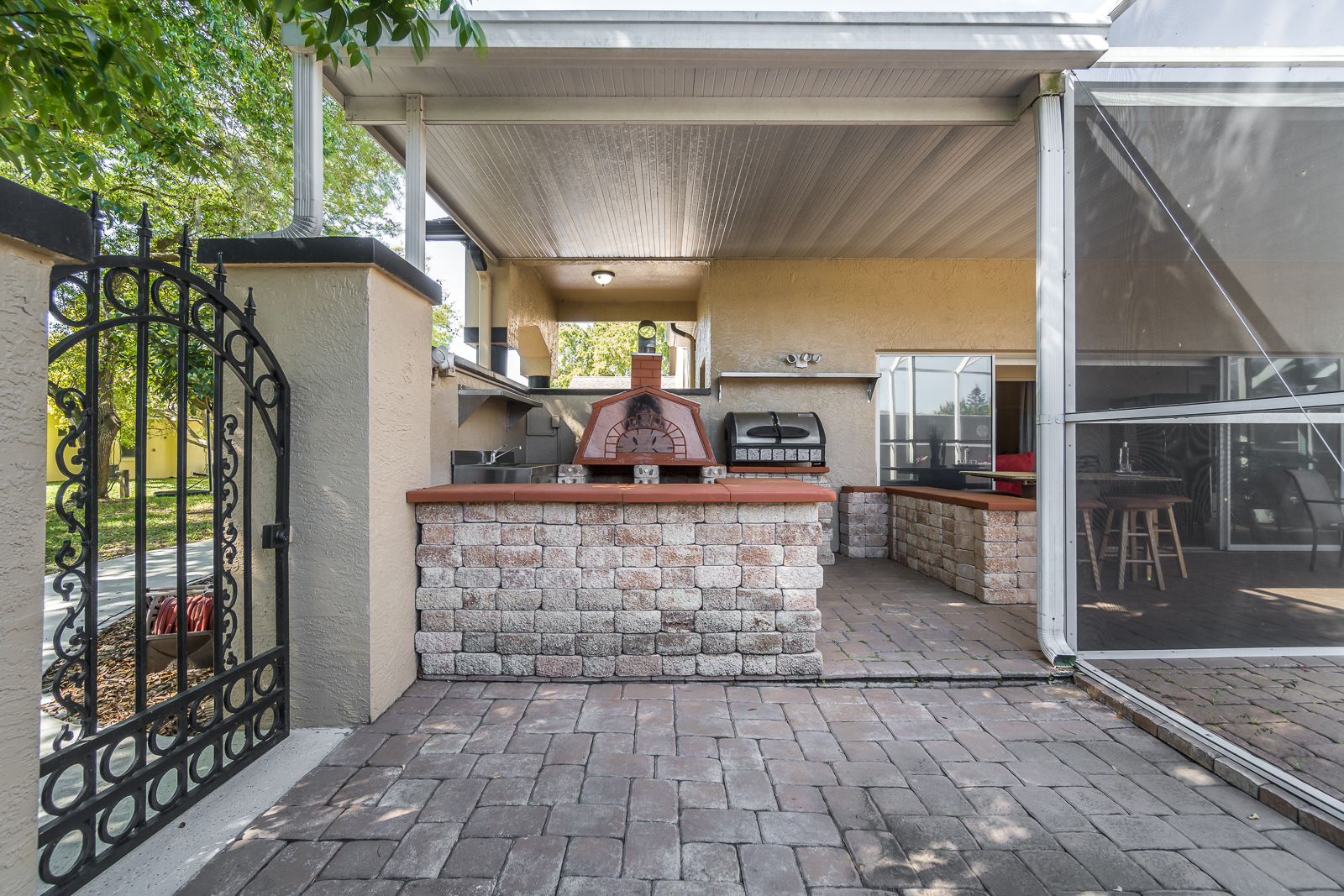 Natural Stone
Travertine is a popular option and looks great outdoors if you want to create an outdoor fireplace or kitchen. Travertine is very durable but does tend to scratch easily. It is harder to keep clean than the other flooring options we laid out here. We like it more for outdoor use around the pool than in our indoor living space.
Ready to tackle new flooring in your home? Take a look at our vendor listing if you need recommendation: https://www.tampateamtlc.com/blog/team-tlc-vendor-list/