Best schools in the Tampa Bay area
Posted by Lisa Carroll on Monday, April 26, 2021 at 9:48 AM
By Lisa Carroll / April 26, 2021
1 Comment
One of the most important decisions you have when buying a home is the zoned schools. Even if you don't have kids though, school boundaries are important for resale value.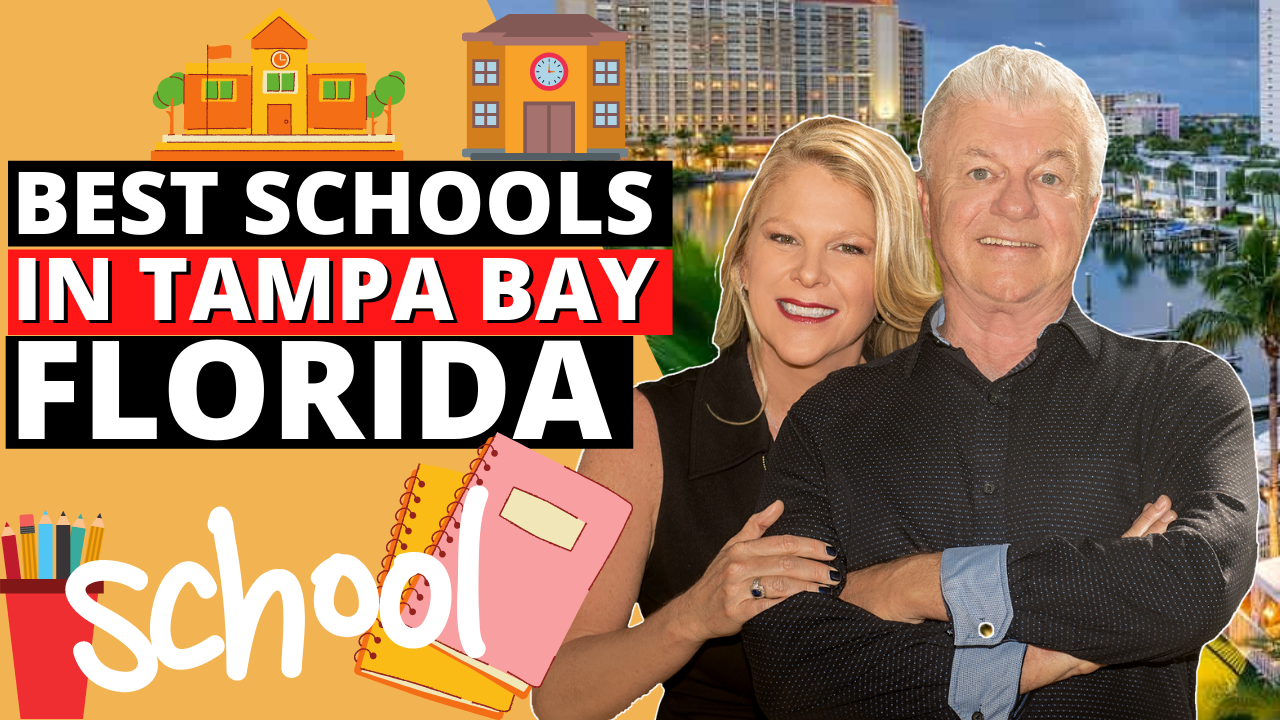 The Tampa Bay area is comprised of 4 school districts, each divided by county. Each district offers elementary (generally K-5), middle (6-8) and high (9-12).
Hillsborough County School District the largest in the area with more than 200,000 students in 250 schools
Pasco has 84 schools
Pinellas has 140 school
Hernando has 28 schools
All the Tampa Bay area school districts also have charter schools, which are public schools that operate under a performance contract which frees them from many regulations created for traditional public schools while holding them accountable for academic and financial results. These charter schools are not included in this information nor are private schools.
The state of Florida grades public schools based on how students perform on statewide assessments. There were no school grades given in 2020.
A rated schools can also be distinguished as a School of Excellence (in 80th percentile for 2 of the last 3 years while meeting qualifying criteria). This is the criteria we used to determine some of top areas to look at schools.
Top areas for families with top-rated schools
Hillsborough
SW Hillsborough (South Tampa area)
This is a popular area close to Tampa Bay and north of MacDill Air Force Base
Elementary: Mabry, Grady, Mitchell, Gorrie
Middle: Coleman
High: Plant, one of the premiere high schools in the state and consistently ranked as the top high school in the Tampa Bay area
NW Hillsborough (Odessa/Lutz)
Lakes, horse farms and golf courses are spread throughout this area
Elementary: Hammond, Schwartzkopf and McKitrick
Middle: Martinez and Walker Magnet
High: Steinbrenner
Westchase
Community in west central Hillsborough County that is popular with families and downtown commuters.
Elementary: Westchase, Deer Park and Bryant
Middle: Farnell and Davidsen (which is B rated)
High: Sickles and Alonso High (which is B rated)
Eastern Hillsborough (Lithia)
Growing are with easy access to downtown Tampa
Elementary: Fishhawk Creek, Bevis, Lithia Springs
Middle: Barrington and Randall
High: Newsome High
Pasco
Land O Lakes
Elementary: Bexley, Oakstead, Sanders Memorial, Lake Myrtle
Middle: Rushe
High: Land O Lakes (IB), Sunlake
Wesley Chapel
Elementary: Sand Pine, Seven Oaks, Wiregrass
Middle: John Long, Weightman
High: Wiregrass Ranch
Western Pasco (Trinity, Holiday, New Port Richey)
Elementary: Longleaf, Odessa, Trinity, Trinity Oaks
Middle: Seven Springs
High: Mitchell
Pinellas
St. Pete
Elementary: Bay Vista Fundamental, Gulf Beaches Magnet
Middle: Thurgood Marshall Fundamental
High: St. Petersburg Collegiate
Clearwater
Elementary: Davis
Middle: Clearwater Fundamental
High: No A-rated high schools. Clearwater and Countryside are both B-rated
Tarpon Springs
Elementary: Brooker Creek
Middle: East Lake
High: East Lake
Palm Harbor
Elementary: Cypress Woods, Ozona, Sutherland,
Middle: Carwise, Palm Harbor
High: Palm Harbor University
Hernando
Spring Hill
Elementary: Chocachatti, Gulf Coast Elementary
Middle: Gulf Coast Academy, Powell
High: Springstead is B-rated
Brooksville
Elementary: Brooksville Elementary is B-rated
Middle: Parrott Middle is C-rated
High: Hernando High is B-rated
Hillsborough County Schools of Excellence
Elementary: Alafia, Apollo Beach, Bevis, Bryant, Chiles, Clark, Deer Park, Fishhawk Creek, Gorrie, Grady, Hammond, Lithia Springs, Mabry, Macfarlane Park Magnet, Maniscalco, McKitrick, Mitchell, Northwest, Pride, Roosevelt, Schwartzkopf, Stowers, Westchase
Middle: Barrington, Benito, Burns, Coleman, Farnell, Martinez, Randall, Walker Magnet, Williams Magnet, Wilson
High: Newsome, Plant, Sickles, Steinbrenner
Hillsborough A-rated schools
Elementary: Alafia, Alexander, Anderson, Ballast Point, Bryant, Chiles, Cimino, Clark, Deer Park, Fishhawk Creek, Gorrie, Grady, Hammond, Lithia Springs, Mabry, MacFarlane Park Magnet, McKitrick, Mitchell, Muller Magnet, Northwest, Pride, Roosevelt, Schwartzkopf, Stowers, Tampa Palms, Valrico, Westchase
K-8: Rampello K-8 Magnet, Roland Park K-8 Magnet, Tinker K-
Middle: Barrington, Benito, Bevis, Burns, Coleman, Farnell, Hill, Liberty, Ferrell Magnet, Martinez, Progress Village Magnet, Randall, Walker Middle, Williams Magnet, Wilson
High: Newsome, Plant, Sickles, Steinbrenner, Strawberry Crest, Tampa Bay Tech
Pasco Schools of Excellence
Elementary: Trinity, Oakstead, Veterans, Odessa, Sanders Memorial, Sand Pine, Longleaf
Middle: Seven Springs, Dr. John Long
High: Land O Lakes
Pasco A-rated schools
Elementary: Bexley, Lake Myrtle, Longleaf, Oakstead, Odessa, Sanders Memorial, Sand Pine, Seven Oaks, Trinity, Trinity Oaks, Wiregrass
Middle: John Long, Rushe, Seven Springs, Weightman
High: Land O Lakes, Mitchell, Sunlake, Wiregrass Ranch, Wendell Krinn Tech
Pinellas Schools of Excellence
Elementary: Anona, Bauder, Bay Vista, Brooker Creek, Perkins, Oldsmar, Curtis Fundamental, Pasadena Fundamental, Sunset Hills, Tarpon Springs Fundamental, Cypress Woods, Sutherland
Middle: Clearwater Fundamental, Thurgood Marshall Fundamental, East Lake
High: Osceola Fundamental, Palm Harbor University, East Lake, St. Petersburg Collegiate
Pinellas A-rated schools
Elementary: Anona, Bauder, Bay Vista Fundamental, Bauder, Brooker Creek, Curlew Creek, Curtis Fundamental, Cypress Woods, Davis, Garrison-Jones, Gulf Beaches Magnet, Oakhurst, Oldsmar, Orange Grove, Ozona, Pasadena Fundamental, Perkins, Safety Harbor, Shore Acres, Sunset Hills, Sutherland, Tarpon Springs Fundamental,
K-8: Madiera Beach Fundamental, Sanderlin
Middle: Carwise, Clearwater Fundamental, East Lake, Palm Harbor, Thurgood Marshall Fundamental
High: East Lake, Osceola Fundamental, Palm Harbor University, St. Petersburg Collegiate
Hernando Schools of Excellence
Elementary: Chocachatti
Middle: Gulf Coast Academy
High: None
Hernando A-rated schools
Elementary: Chocachatti, Gulf Coast Elementary Academy
K-8: Challenger K-8
Middle: Gulf Coast Middle Academy, Powell
High: None