Best fishing spots in Tampa Bay
Posted by Lisa Carroll on Tuesday, June 6, 2023 at 12:00 PM
By Lisa Carroll / June 6, 2023
Comment
Best fishing spots in Tampa Bay (no boat required!)
There are many places around Tampa Bay to drop your pole and spend some time fishing. And some of our favorites don't require a boat. Whether it's sitting on a pier, standing in the sand at the beach or along Bayshore Blvd, there are freshwater and saltwater options for onshore fishing in the Tampa Bay area.
With more than 200 species of fish living in our waterways, the Tampa Bay area is the crown jewel for Florida anglers. Tampa Bay is the largest open-water estuary in the Sunshine State so the fishing in Tampa Bay is nothing short of superb. Most anglers are after the "Big 3" – tarpon, redfish and snook. Other local species include trout, jack crevalle, grouper, snapper, cobia, ladyfish, mackerel and flounder.
Note: Be sure to check to see what fishing license is needed based on your activity (or look for license-free fishing days). Generally, anglers over age 16 need a license in both freshwater and saltwater.
We have several agents on our team who love to spend their free time fishing. These are their recommendations for 12 great places for onshore fishing in Tampa Bay.
R.E. Old Park
107 Shore Drive West, Oldsmar
This is a hidden gem and a favorite of Team TLC agent Garrett Carroll. He said there is a lot of crabbing and mullet fishing at the park. But he has also seen people catch red drum and sheepshead. He loves R.E. Old Park because it has a fishing pier with shade. The 500-foot pier in the Safety Harbor with a 40 foot "T" at the end has a few shaded areas along the pier. The park also has picnic shelters, playgrounds, scenic views, restrooms and free parking.
Safety Harbor pier at Veterans Memorial Park
131 South Bayshore Blvd, Safety Harbor
The Safety Harbor pier is another favorite among our agents. The pier is within Marina Park / Veterans Memorial Park and is 420 feet in length over Old Tampa Bay and has a 50 foot "T" at the end. A shaded area is at the end also. Popular fish we have caught at this park include sheepshead, mangrove snapper, sea trout and snook. You'll want to stay off the bottom to avoid the catfish. Restrooms are available as well as a boat ramp.
Skyway Bridge Pier
I-275, St. Pete
This is the world's longest fishing pier! We love the convenience of fishing here. Rather than parking and lugging tackle and coolers, you can drive to where you want to fish and just unload your car. It's also lit at night, so you can fish during the cooler hours of the evening or early morning. Even in the middle of the day, though, its location at the mouth of the bay means there's almost always a breeze and it's easy to put up a tent for shade. The Skyway Bridge Pier offers a chance to catch snook, tarpon, mackerel, cobia, red snapper and pompano. It's open 24 hours a day, 365 days a year as well and there is a bait shop at the pier. FYI: $4/vehicle and $4/person fee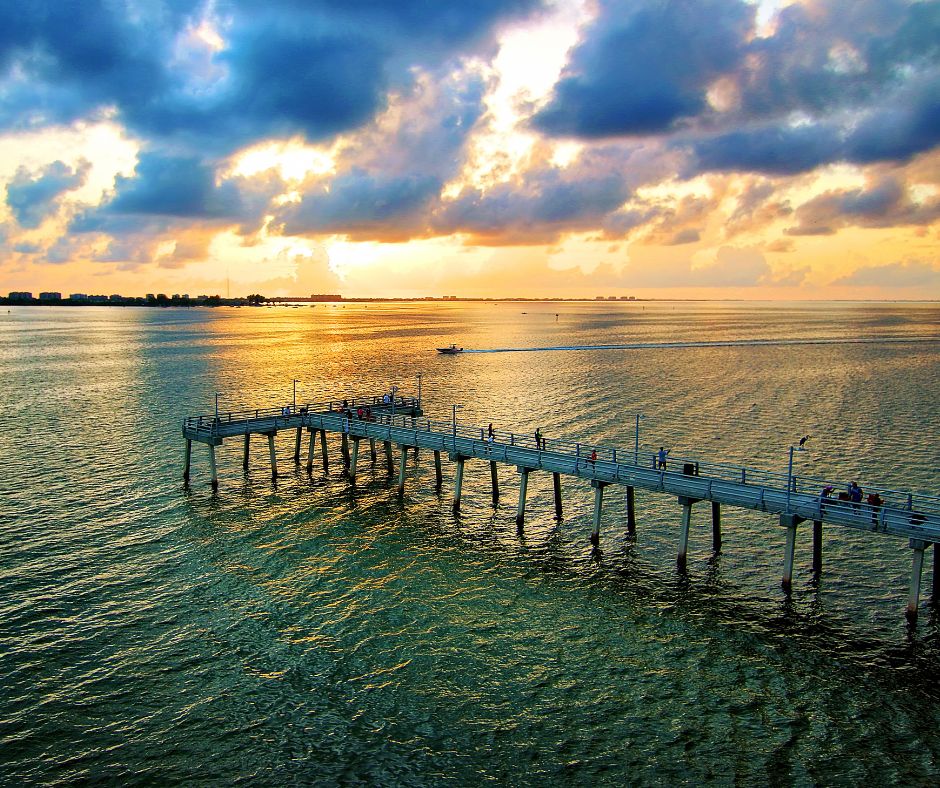 Ballast Point Park
5300 Interbay, Tampa
Ballast Point Park is a popular fishing spot in South Tampa. The 600-foot fishing pier is free to use and you can rent equipment on site. There is also a boat ramp and dock. Both the pier and boat ramp are open 24 hours a day, 7 days a week. The fishing pier has benches and fish cleaning tables with running water so you can clean your catch right there before putting it in the cooler. Popular catches include red drum, jacks, snapper, snook and mackerel. We have even seen some small sharks caught here. The rest of the park, with playground, splash pad and picnic facilities, is open 6a-8p.
Picnic Island Beach
7409 Picnic Island Blvd, Tampa
Another South Tampa gem, located near MacDill Air Force Base. When we lost the Gandy Pier as a fishing spot (the pier became unstable and was closed), we started fishing here. There is a boat ramp and pier at the park, both which are open 24 hours a day. The park also has a beach, dog beach, playground, splash pad, disc golf course and shaded picnic pavilions. So lots to do besides fishing. The area is popular for kayak fishing with anglers catching snook and redfish.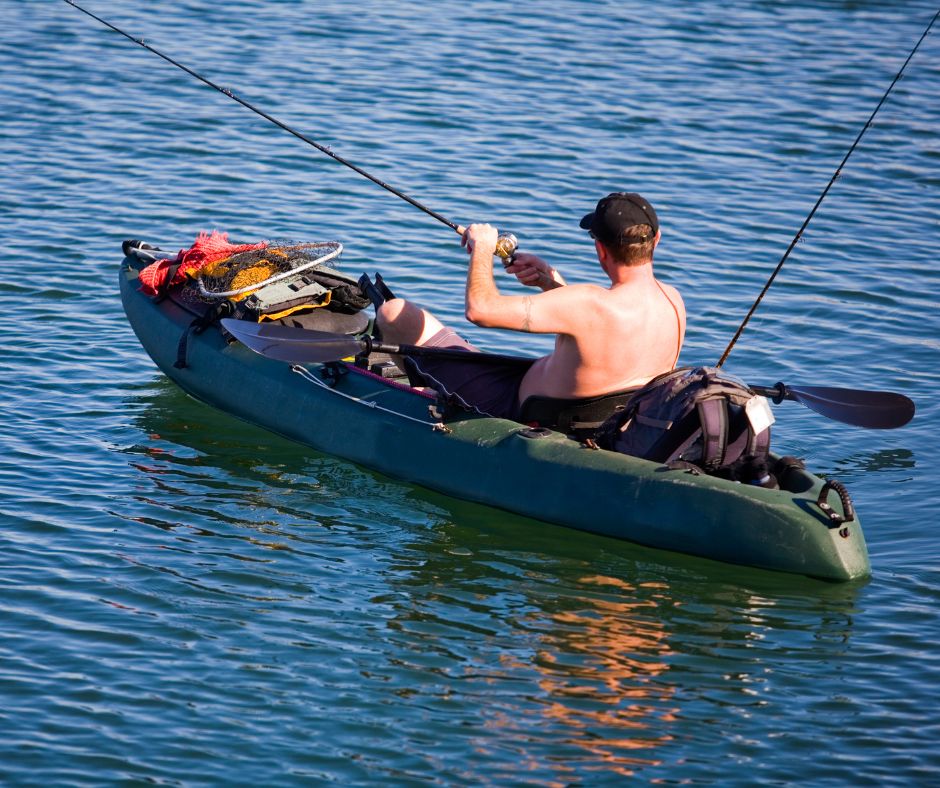 Edward Medard Park
6140 Turkey Creek, Plant City
The 700-acre reservoir is a reclaimed phosphate mine popular for fishing, boating and canoeing. One of the popular ways to fish in the reservoir is in a kayak but we have also fished from the bank of the lake. Kayak rentals are available at the park though. Popular fish to catch in the lake are sunshine bass (striper hybrids), which are stocked on a regular basis, bluegill, sunfish and channel catfish. The reservoir has shallow waters with an average depth of about 9 feet so you can also do some swimming. Other features of the park include camping, a disc golf course, beach volleyball, picnic pavilions, a playground, observation platform and a 3-mile trail for equestrians, hikers and bird watchers. Note: $2 per vehicle (up to 8 people). $5 boat launch fee.
Rowlett Park
2401 E Yukon Street, Tampa
Nestled along a bend in the Hillsborough River, Rowlett Park offers a great spot for freshwater fishing along the park's shores. You'll likely catch bass, bream, bowfin and catfish in the river here. The park also has a 2-mile asphalt trail, ball fields, courts, picnic tables & shelters, grills, two playgrounds and fitness stations. A canoe launch is also available for access to the Hillsborough River State Canoe Trail, which extends north to the Hillsborough River State Park. The park is free and open 7a-7p.
Bishop Harbor
End of Bishop Harbor Rd, Palmetto
Located on the east side of Tampa Bay down near Palmetto in Manatee County, this little hidden gem offers boat ramps and a pier. The harbor is small and calm and is a great place to catch redfish, snook, grouper, lady fish and speckled trout. There are no restrooms or facilities at the park so plan accordingly.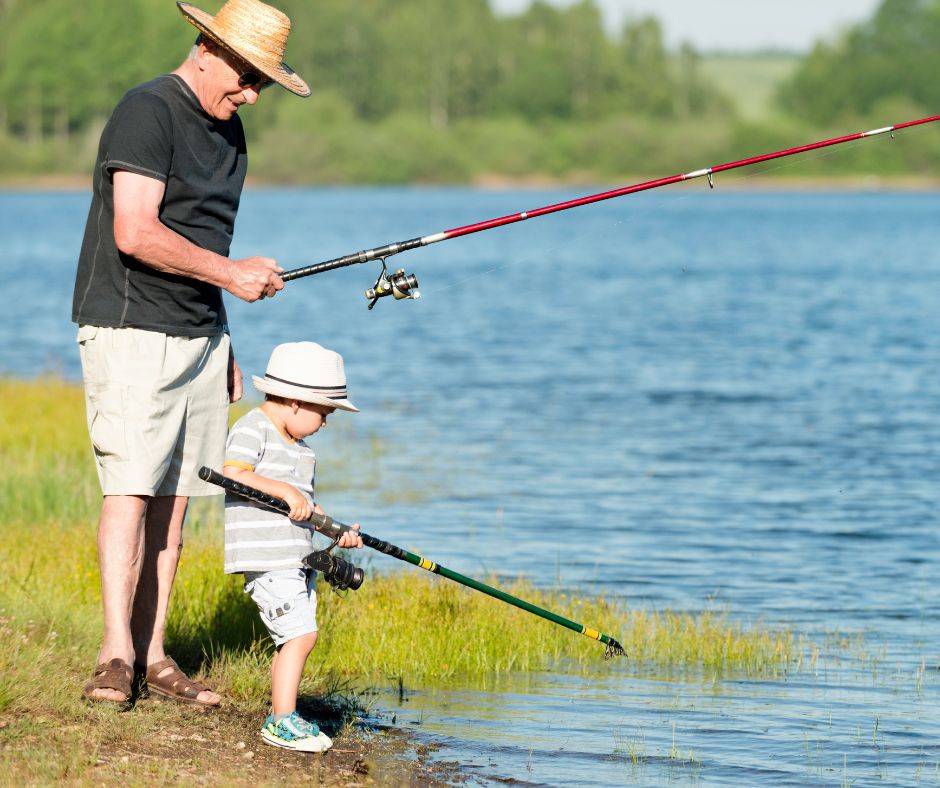 E.G. Simmons Conservation Park
2401 19th Ave NW, Ruskin
Located on the east side of Tampa Bay, E.G. Simmons Park has several small piers for fishing and two boat ramps. There is also plentiful area along the shore for fishing. The park is full of native mangroves and mangrove swamp with open land areas and intertwined waterways. Other amenities include camping (fee), kayaks and canoe launch (rentals available for fee), picnic pavilions, playgrounds and beach/swimming area. Note: $2 per vehicle.
Lake Tarpon
Anderson Park Boat Ramp, 39699 US Hwy 19, Tarpon Springs
John Chestnut Sr. Park, 2200 East Lake Road, South, Palm Harbor
As far as good fishing spots in Tampa Bay for freshwater anglers, Lake Tarpon always ranks near the top. In fact, Florida Fish and Wildlife Conservation Commission biologists rate the lake as one of the top 10 bass lakes in the state of Florida. The 2,534-acre lake is part of the fish management program in Florida.
There is such a wide variety of fish here including bass, monster fish and king mackerel. These parks provide direct access to Lake Tarpon via public boat ramps (fees charged) and have several amenities including fishing piers, picnic areas with grills, playgrounds and trails. Both parks, including the ramps, are open sunrise to sunset. Note: Boat ramp costs $6, credit card only.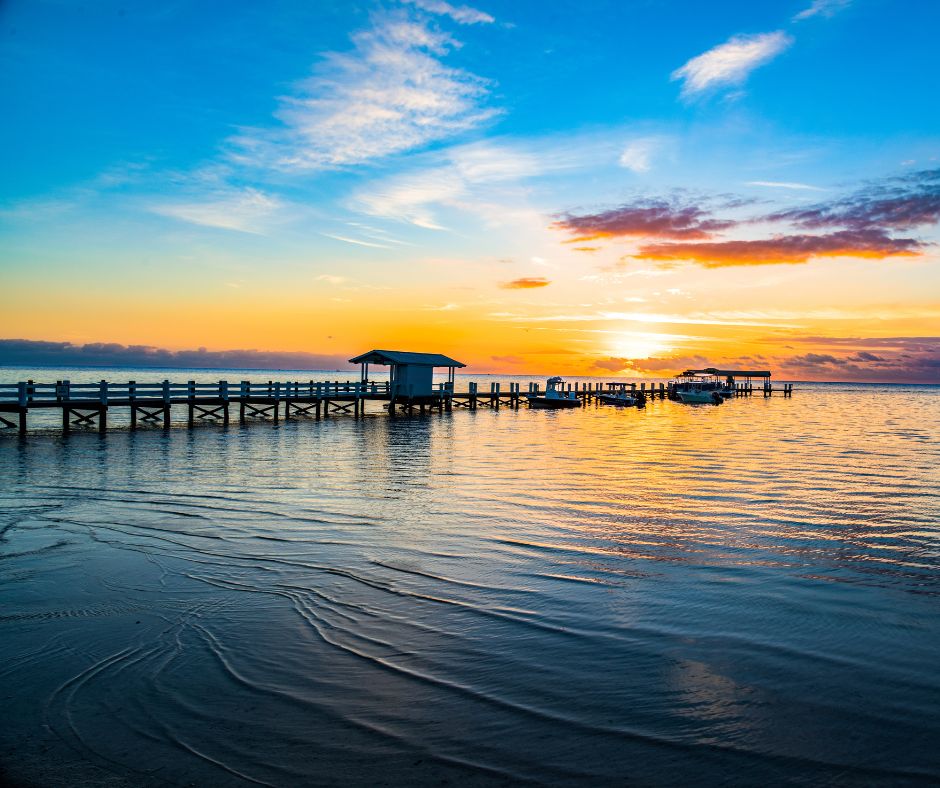 Fort De Soto Park
3500 Pinellas Bayway South, Tierra Verde
Fort DeSoto Park is the largest park within the Pinellas County park system and consists of five interconnected islands. Fort De Soto Park offers two piers – a Gulf pier (saltwater) and a Bay pier (freshwater). Both piers have a food and bait concession are open 7a-sunset. Note: $5 parking fee. The Bay Pier is closed until winter 2023.
Lake Rogers Conservation Park
9010 N Mobley, Odessa
We love this small park located in northern Hillsborough County because it is quiet. There aren't many spots to fish from the shore so it is popular with anglers who put in their kayaks and canoes. The park has freshwater lakes, one of which — Lake Rogers — is among the largest in Hillsborough County. Common fish caught in the park include bass and brim. Note: $2 per vehicle.