5 home projects to complete in 10 minutes or less
Posted by Lisa Carroll on Monday, February 6, 2023 at 12:00 PM
By Lisa Carroll / February 6, 2023
Comment
5 home projects to complete in 10 minutes or less
I'm a little OCD and I like to keep up with projects I have around the house. I'm sure you have a laundry list of projects you've been wanting to get to as well. Or a honey-do list. Here are 5 home tasks you can finish in 10 minutes or less. Set a timer for 10 minutes and see which of these you can tackle right now. Your home will feel more organized (we hope!)
Organize your pantry
Start by throwing out expired items. Now organize your shelves by function like baking, canned goods, snacks, cereal, etc. If you're adventurous, use clear containers for sugar, pasta, rice, cereal so things not only look more uniform but you'll find what you need without buying unnecessarily.
Sliding glass doors or windows
If your sliding glass door or windows aren't sliding as smoothly as they should, spray a cloth with silicone lubricant and wipe it along the tracks. It'll make it easier to get some fresh air. While you're at it, a quick spray and wipe with a microfiber cloth will get that glass sparkling.
Clean out the fridge
This is a good project to save for trash day. Purge your fridge of anything rotten or expired. Wipe down the shelves before you return the food to the fridge.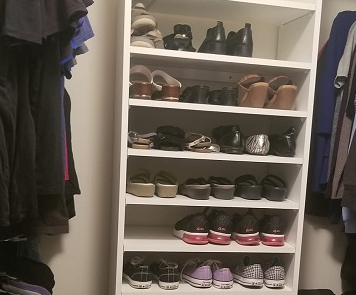 Organize your closet
This one might take a few steps. Set a timer and organize your closet for ten minutes. We recommend organizing by color, type or function. For example, hang all shirts, jackets, sweaters, skirts, pants and dresses with each other. A tip I use: turn all your hangers in the opposite direction. When you wear an item turn the hanger around. If after 3 months you haven't worn an item re-evaluate if it deserves real estate in your closet.
Wipe down high-contact surfaces
Grab an anti-bacterial wipe or cleaner and microfiber cloth and wipe down the surfaces you touch every day. Wipe down remotes, light switches, appliance handles and toilet handles. While you're at it, wipe off your phone (gently without a lot of liquid that could cause damage), key fob and keyboard.
Now get off your phone/computer and get started!